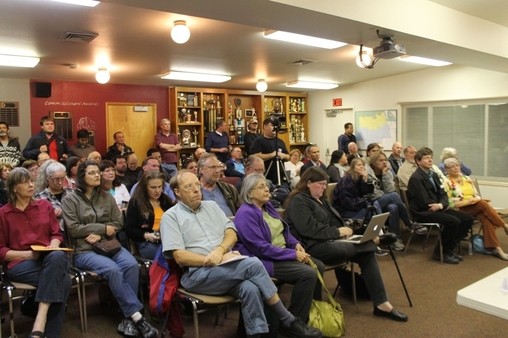 (About two-thirds of the crowd)
By Tracy Record
White Center Now editor
With just a month till the election, the North Highline Unincorporated Area Council's annexation forum brought a standing-room-only crowd to the NH Fire District's headquarters tonight, for two hours of statements, questions, answers, and only a bit of the acerbic sparring that has on occasion marked discussion of the annexation issue.
We have all but the last 10 minutes of the forum on video, and will upload that once we're back at headquarters. (Added – here it is:)
We will also add some links to the story, and a letter from King County Executive Dow Constantine, read aloud during the forum, urging residents to approve annexation. But for those who couldn't be there – here are the highlights of the forum moderated by NHUAC president Barbara Dobkin, with a panel of six at the head of the room: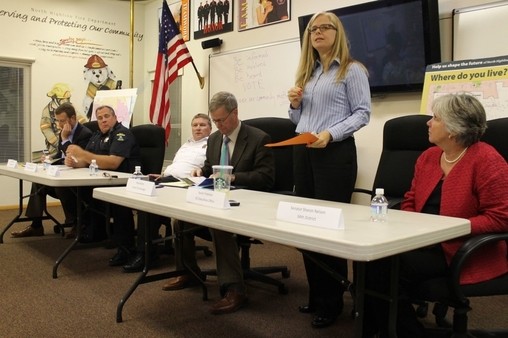 Karen Freeman from the King County Executive's Office began with "how did we get here?" background. "We ended up with a Swiss-cheese map of some unincorporated areas like North Highline." She explained, "The county has been really struggling to serve you – this patchwork of communities," referring to the remaining unincorporated communities. "When you become a dense urban neighborhood, you need more services than (a rural neighborhood." The county, bottom line, just isn't set up to serve those "dense urban (areas)" including North Highline. The county started aggressively going out in 2004 and talking to areas about "where do you want to go?" Six annexations down – six to go, she said. She described the south North Highline annexation as "having gone really well." She also mentioned the county's low level of road service, blamed on budget cuts, and cuts in park funding. Cities provide such services really well, Freeman said, but the county does not. "Our focus is on providing … we run the regional jail, the public-health system, the court system … all these examples of regional services that we were designed to provide and that we are trying to fund …"
State Senator Sharon Nelson mentioned she had worked on annexation while on County Executive Constantine's staff, and is continuing in the Legislature. The state Growth Management Act makes it imperative that these "urban growth areas" must be "transitioned… into cities where there is a better level of service and more appropriate local-government component." She mentioned the annexation sales-tax credit having been designed so that cities could take on communities – increased because of the North Highline area and its "needs." She called the sales-tax credit the state's "carrot" to encourage annexation. She urged those concerned/interested to talk to those in the previously annexed "Area X" – and said she hasn't taken sides in this.
Next, Burien City Manager Mike Martin, who said "Our best strategy is to answer questions," and then said "Here are things we know to be true, despite what we have heard in other venues." He noted that about two-thirds of the crowd were what he calls "annexation veterans." He said Burien would become a city of about 65,000 if annexation is approved and outlined some other basic facts – annexation is voted on only in the area that would be annexed if passed. A common question, he said, is "Who provides the services?" subsequently describing Burien as "a contract city" – with five or six "junior taxing districts that provide everything from water to sewer to fire to library to school … none of those would change in annexation." Then he went over the postal-address question, saying only the zip code matters.
According to Martin, annexation is "revenue-neutral" – has no cost to the city of Burien. "The fact of the matter is that we have more than ample resources to do this." He said this annexation brings in 10 times the sales-tax credit of the last one, "radically different from any other annexation in the county," because this area has more needs than other areas and "really needs to belong" to a city. He stressed, "There is no equivocation over whether we can financially do this as a city. We absolutely can, period, game over." As for reconciling the way the area runs now with the way Burien runs now – he said they basically won't do anything for about a year and won't do anything "without consulting the community." Then: "When it's all said and done, the taxes and fees combined for the average house in the area will increase by about $140 a year." Burien is doing a lot more of its own road work, he added, and has various efficiencies. As for the public parks – they will negotiate with the county, although he notes that Steve Cox is a regional facility. The previous annexation involved taking over half a dozen parks, he said, and Burien still does not have enough parks, he said, so parks are high priority.
So what DOES change – why do this? he said. His answer was the same as a previous forum – protection (though he didn't use that word) from situations like the Puget Sound Park "debacle." He said Burien deploys "aggressive intervention" when necessary, and "we punch above our weight." He said people in the unincorporated area may not realize what it's like to envision something and have it become reality. "When 18,000 people join a city of 45,000, you have a voice."
Burien is also a fairly young city – and will celebrated its 20th anniversary next year, Martin noted. "That's 20 concerted years of pursuing a vision. … We're accessible, we're committed to listening to people … and I'd say that's our best pitch." He also noted the city's mayor, deputy mayor, and a councilmember were in the audience.
Fire Chief Mike Marrs followed Martin. "Since November of (last) year," he said, he has been chief of the North Highline Fire District as well as District 2. He explained the department's operations, including running 4 stations.
Sheriff Steve Strachan, on the sidelines (as were several other officials who participated, besides the six panelists), addressed the question "what would happen if annexation does NOT occur?" Burien, he reiterated, is the contract partner of the King County Sheriff's Office. "If the decision is made to annex, your police department becomes the Burien Police Department" and they change uniforms, but little else. He said staffing won't go down if annexation is rejected, but – it wouldn't likely go up, either. The White Center storefront deputy would stay, he said.
Capt. Carl Cole, who is the assistant chief of Burien Police, then talked about operations. "Right now the way we staff White Center, we actually have an unincorporated pool of deputies responsible for Vashon, White Center, Skyway." He said that means a 4-car minimum between White Center and Skyway. "The problem we have right now, we don't have enough people to meet (that minimum) so we end up doing a lot of that staffing on overtime." WC has Storefront Deputy BJ Myers and about a third of the Boulevard Park storefront deputy. Property crime investigation falls to two detectives who handle White Center, Vashon, Skyway, and an unincorporated area near Federal Way. There used to be 4 handling Skyway and WC alone.
He detailed other staffing, including the fact that "non-in-progress calls" in the middle of the night do not get responded to. He says they've figured out how the police department would work if the annexation goes through – an additional 12 patrol officers, but actual patrol numbers will likely stay the same. Property crime investigation might go up, though, as street-crime investigation likely would. Other areas would likely go up a bit in terms of policing power. Patroling strength would stay close to what it is now – but they always try to keep numbers up in the cities, he said, so "the availability of service will go up slightly – but the real difference is in investigations and followups."
County Councilmember Joe McDermott started out by reading a letter that he said County Executive Constantine has sent to residents in the potential annexation area, urging them to vote in favor of it, and explaining why – as Constantine staffer Freeman had said earlier – governance would work better under a city than with the county.
See the entire letter (PDF) here.
Constantine's letter said his support for the area being annexed had been consistent for years, and stressed that "King County can no longer afford to provide the level of urban services that residents … have come to expect." The letter also mentioned Burien "actively and sincerely" reaching out to residents, and that it already shares a common school district and common police provider. After reading the letter – whose text we'll add to this story later, when it's e-mailed to us – McDermott said that some who had spoken before him had "stolen his thunder" but that he had worked on the sales-tax-credit issue when he was in the Legislature. Then he underscored some of the service deficiencies the county faces, particularly the "tiered" road-maintenance plan: "The brutal reality is that we don't have enough money to maintain roads …" 36 miles of county roads, he said, are in Tier 5, and will eventually go to gravel.
He also talked about the Club Evo situation and how difficult it was to get that through the County Council – since the other 8 councilmembers do not represent this area – addressing it as a moratorium on certain types of clubs. Under Burien leadership, he said, there will be seven councilmembers solely focused on city needs. Under the county, budget pressures mean "we will not be able to sustain the amount of service you deserve."
After about an hour, the forum switched to Q&A. The first question, was seeking a clarification of how the annexation sales-tax-credit works; Sen. Nelson handled it, saying that .8 percent of the tax that would usually go to the state would go to the city instead. Martin then said he is certain that the expected $5 million WILL be received by Burien. "We get the money. … We've been over this a zillion times." Many have asked about the accuracy of that number and Martin says it's been checked and rechecked. Burien Councilmember Jerry Robison added from the sidelines that he had the actual numbers – though not on his person at the moment. "Why in the world would we overestimate revenues?" Martin asked, after Sen. Nelson went through some of the Olympia logistics. He suggested those who questioned it were "conspiracy theorists."
In response to another question, Sen. Nelson noted that the sales-tax credit offer did have an end date – January 1, 2015 – if no annexation happened. But if and when it does, it lasts for 10 years.
Would the libraries in the annexation area become Burien areas? was the next question. No, they would remain King County libraries, Martin said, while pointing out that the question of the current WC and Boulevard Park libraries' fate remains unsettled – until after the annexation issue is settled, yes or no.
That led to a followup question about the concerns that the King County library system has expressed – whether the 116th/Ambaum library might draw too many non-taxpaying Seattleites, since it's so close to another city. Martin says the council's been arguing that the Boulevard Park library needs to be renovated and the White Center library needs to be rebuilt where it is or nearby.
Stephen Lamphear then pointed out from the sidelines that county reps who were on the panel do not represent the library system, since it has its own governance.
Freeman and McDermott both said they had been strongly lobbying the library system regarding the two libraries' fate.
Someone then read from a flyer attributed to "Independent White Center," wondering if its contention that home values would drop were true. The King County Assessor's Office is accountable for dictating values, it was pointed out. Robison, noting he's been in the real estate business for decades, stated flat out that "changing from White Center to Burien would not have any effect on property values." Some services – such as roads – might have a minor effect, but otherwise, he said, "In real estate, it's all location, and unless you pick up and move the house, it's not going to have any effect."
What about the concentration of low-income housing in the White Center area? "Consolidating it in one part of the county is a very bad idea for many reasons," replied Martin.
Robison took on the specific topic of Section 8 subsidized housing and its effect on the tax base. "Even with the disproportionate level of public housing and subsidized housing in White Center (and environs), it still accounts for a very small percentage of the total housing stock," he said. "My best estimate is that about 10 percent of the housing stock falls in that subsidized range and about 3 percent is public or subsidized housing that does not pay property taxes. … It's not a crippling thing."
The questioner then said that the presence of subsidized-housing tenants was affecting property values in his neighborhood. He and Robison had a back-and-forth about it, before Martin jumped in and said there's certainly "a willingness to address the issue" that Burien "could bring to the table."
Chestine Edgar then stood to express skepticism about "promises by politicians … that everything was going to turn out all right." She said that property values in some areas had dropped – and annexation supporters tried to refute it. "If this does not work out, what is the safety net for (the area) after the sales tax credits work out – we would be in a deficit level," she contended. "What is the state's plan for bailing areas like this out?"
Sen. Nelson rose and acknowledged that a consultant's report would show the city with a deficit at that point. But she said it was a "conservative approach" outlined during the recession. And then she said, "When you take a look at this annexation, keep in mind (what the county has said about being unable to afford services)." She said she has a daughter in Burien and sees a well-kept area. When she goes through Delridge in West Seattle, she said, "I see a slightly different picture." Plus: Right now, the 18,000 people in the annexation area are among 1.8 million county cities – but in the city of Burien, they would be a substantial share, and would have those aforementioned seven councilmembers as representation.
Freeman then added, that the conversation about annexation has continued in this vein – "showing their work" for many years.
Next, Elizabeth Gordon of Uncle Mike's Superlicious Barbecue in White Center asked how annexation would change things for business owners. "One of the things that has been missing, in my opinion, is a cohesive vision for that area because all of us are working day and night running our businesses," she explained, making it difficult to "bring positive attention to the area."
Martin replied, noting that Burien does have a business tax. As for "code enforcement," he said Burien goes with what the community tolerates – but that does not include for example "public drunkenness." He said "You can expect to see that gone," adding, "We're very aggressive about graffiti removal." He envisions likely adding a full-time employee "to be present up here, for things that need taking care of." Added Martin, "We've had a great deal of discussion about what it would mean to have two business districts … we would expect the same level of decorum in both."
Then Martin pointed out, "The department that handles permits [DDES] in the county is moving to Snoqualmie next month. So if you want a permit, you have to go out to Snoqualmie … If you come to Burien, we're going to take care of you the best way we can." Streets like 152nd in Burien, he said, are most valuable as "a sense of place." He said he believes Burien can help White Center and Top Hat with that. Capt. Cole added, "Cities are so much more nimble than the county in dealing with problems … Coming into the city you'll get a much-better, faster response on these things."
Martin then warned that the day after the election – if annexation is chosen – problems won't be solved overnight. "It's a war of inches."
Robison added that Burien would require business licenses – which the county cannot do – and compared the cost of its B&O tax to Seattle (favorably). He contended that Burien has become "a friendlier place for businesses … you're less likely to find someone at the counter telling you no."
The county would continue to provide public-health services for restaurants, McDermott added.
What if annexation fails – can the area be forced to join one of the cities? it was asked.
Freeman replied that there are a lot of different ways to annex but the county has not talked about using any forcible means of annexation. "If folks decide not to annex to Burien, we'll get together as a community and decide what to do next."
(Editor's note – Our video will run through that point; our camera stopped running there, for reasons unknown – might just be time for a new video camera.)
Robison elaborated on an annexation method that could be carried out without a vote of the people. "You're one percent of the county."
"Can't we get annexed by Medina or Bellevue?" someone asked, drawing laughter.
Another question went back to the topic of property values and the County Assessor's recent declaration that values might seem lower in this area because people were waiting to see what might happen with annexation.
The next question dealt with card rooms and where they existed and where they did not. "Casinos are allowed in the city of Burien, and we have one," replied Martin, who added that they keep "very close tabs" on them with the police. "They've been a good neighbor, we haven't had any problems. I'm concerned with them having problems but … they are a significant contributor to our revenue stream." But there is not a functioning casino in the area east of 99.
Marcia Wollam from Friends of Hicklin Lake then asked about their advocacy for floating lakes and the county Parks Department planning to put one or two into its budget for next year. How would that align with possible annexation, and could the city of Burien stipulate that the funding would proceed, as one of the prerequisites for annexation? Yes, we could, said Martin, though he said they hadn't decided yet. "I think there's another problem with Hicklin Lake which has to do with the way drainage occurs," he said. "We would definitely be talking to the county …"
At that point – 8:53 pm – Sen. Nelson had to leave to catch her ferry. And a notable group of audience members left; it was clear the forum was starting to wind down (and NHUAC president Dobkin acknowledged that).
One person said she wasn't sure whether she was in the annexation area or not – Martin pointed out there's an online tool that will tell you.
"Simple question for Joe – and complaint," began the next questioner. "My absentee ballot for the primary election arrived three days before a voter's pamphlet – is the county putting one out, and will it arrive before the ballot?"
McDermott said he'd check but he believes the state is putting out the general-election pamphlet.
Next: What about assuming the debt for the North Highline Fire District and pension funding? Chief Mike Marrs said the latter would become Fire District 2's liability, if Burien annexes.
Dobkin concluded by saying – make your decision based on facts, and offered those who had participated – among others – as resources for facts. "The important thing is to be a knowledgeable voter, know what you are voting on, and vote."
This forum replaced the regular monthly NHUAC meeting, which is on the first Thursday; next month, they will be back to their regular meeting time, 7 pm on November 1st. And if you still have annexation questions – the City of Burien has one more informational session scheduled before the election, two weeks from tonight, 6 pm October 18th, at Cascade Middle School – just a few blocks east of where tonight's forum was held.