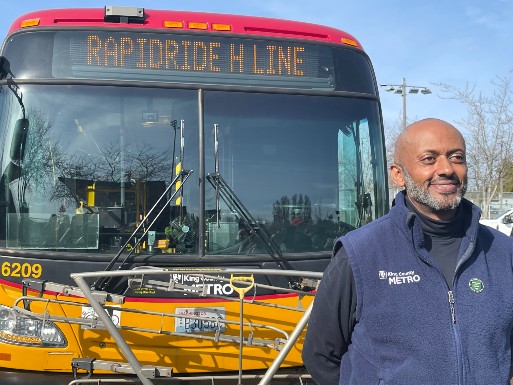 That's Metro driver Ermias Mulugeta, a 14-year veteran transit operator who had a starring role in Friday's ribboncutting-and-speeches event celebrating today's launch of the RapidRide H Line. He drove the newly rebranded red-and-yellow bus into the lot at Steve Cox Memorial Park in White Center, with dignitaries aboard including King County Executive Dow Constantine and Metro's new general manager Michelle Allison: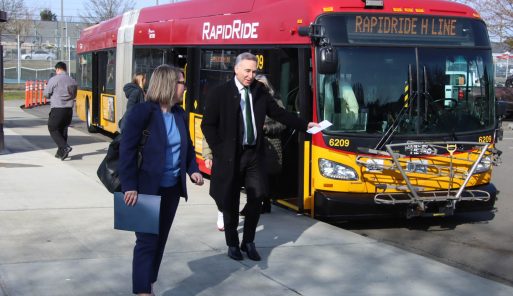 Before the ribboncutting, 26 minutes of speeches – here's our unedited video:
Allison emceed, with opening and closing remarks. Constantine declared that RapidRide is "the evolution of Metro Transit." Route 120, which becomes the H Line today, carried 1.7 million people last year, he said, and he observed that the new line's route between Burien and downtown will help people "enjoy more of what this part of King County has to offer."
It'll also help with everyday tasks, added the next speaker, White Center Food Bank executive director Carmen Smith.
WCFB's new location will be close to an RR stop, and that means people carrying food won't have to hike uphill with heavy loads any more. Other speakers included King County Councilmember Joe McDermott – who is leaving office this year but has helped shepherd the H Line into reality.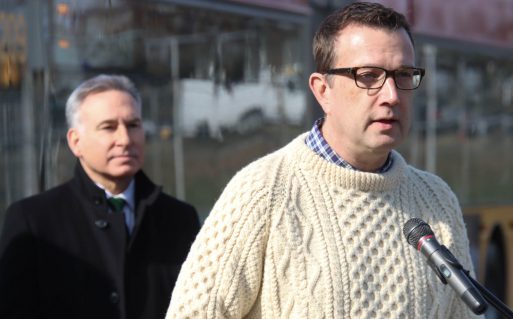 Also, Burien Mayor Sofia Aragon (who happens to be running to be McDermott's successor), who said her city is proud of how this is factoring into many improvements along its main thoroughfare, Ambaum Boulevard.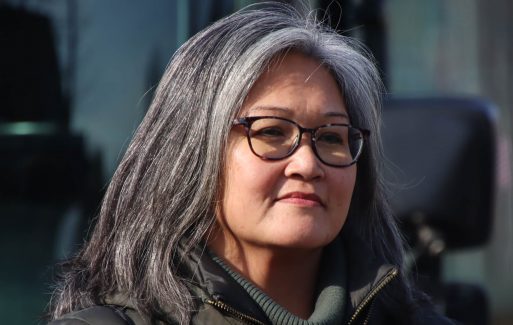 From Seattle city government, executive general manager Adiam Emery reoresented Mayor Bruce Harrell's team: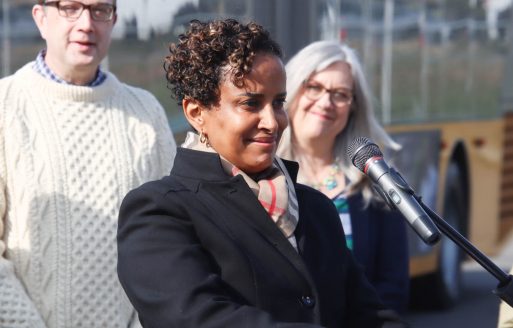 She noted that Seattle had invested $90 million in the H Line, as well as projects such as the Delridge repaving/reconfiguration. And District 1 City Councilmember Lisa Herbold noted that the "multijurisdictional project" is an enhancement to what's already King County's sixth-busiest bus route. After Allison wrapped up with a few more stats – 51 new stations, 40 new crosswalks, five miles of new bus lanes – it was ribboncutting time: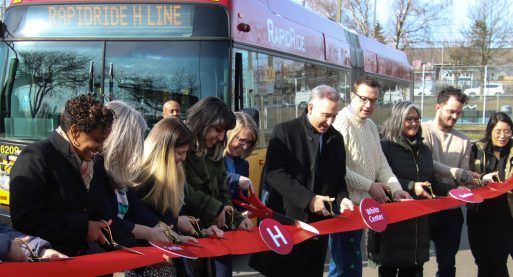 As reported on our partner site West Seattle Blog on Wednesday, the H Line officially begins running with a 5:26 am northbound departure from Burien this morning. The first coach, we're told, will be the same one that rolled up at the start of Friday morning's event – 6209. The launch comes four years later than the originally announced 2019.