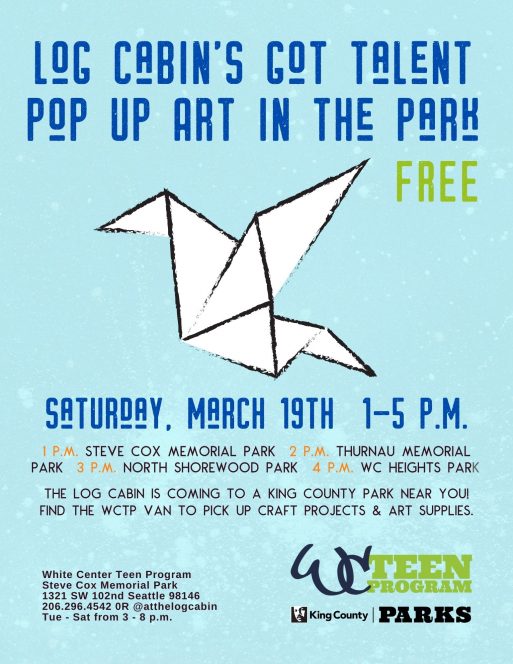 From Darlene Sellers at King County Parks, a two-part invitation – and part one happens tomorrow (Saturday, March 19th):
The White Center Teen Program (aka the Log Cabin) is gearing up for the 5th annual Log Cabin's Got Talent Show set to premiere on zoom on Friday, March 25th from 5-6:30 pm. Visual and performing artists ages 12 – 19 are encouraged to submit original artwork and videos before 8 pm on Saturday, March 19th. Please reach out to Jonathan at ngoc.nguyen@kingcounty.gov or 206-482-1138 for details on how to submit. Art supplies and talent coaches currently available every Tue – Sat from 3-8pm at the WCTP. Categories for the 2022 LCGT Visual competition include drawing/painting, photography/digital design, and ceramics. All submissions will be eligible for viewing on the WCTP facebook page and youtube channel and top scoring artwork and performances will be featured in the LCGT zoom program on Friday, March 25th.

In addition to Log Cabin's Got Talent on March 25th, family friendly craft projects and art supplies will be available on Saturday, March 19th in the following four King County Park locations:

1 PM – Steve Cox Memorial Park (1321 SW 102nd St 98146)
2 PM – Thurnau Memorial Park (11050 10th Ave SW 98146)
3 PM – North Shorewood Park (SW 102nd St & 24th Ave SW 98146)
4 PM – White Center Heights Park (SW 102nd St & 7th Ave SW 98146)

Log Cabin's Got Talent is once again sponsored by the teens and staff of the White Center Teen Program. The WCTP offers free recreational, educational, and social enrichment programming to youth ages 12-19 between Tuesday – Saturday from 3-8pm. The WCTP is currently offering remote programs as well as small group in-person assistance with homework help and job readiness; outdoor programs such as tennis, bicycle club, lacrosse, and garden club; and the ongoing Recreation Aide Employment Program.