WHITE CENTER CRIME WATCH: Suspect charged in fire outside Smoke Town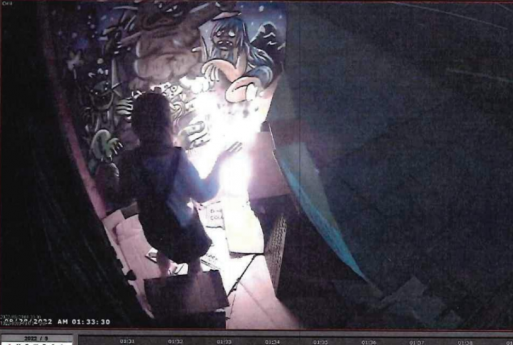 A 45-year-old woman is charged with reckless burning in the September 28th fire outside Smoke Town in downtown White Center. Documents filed by the King County Prosecuting Attorney's Office allege Evie M. Hell is the person shown in security images (including the one above) as burning cardboard grew into a fire that damaged the front of the shop. When the images were circulated, at least one King County Sheriff's Deputy recognized Hell, saying he had seen her earlier in the evening wearing the same clothes as shown in the images. The images show the person walking away as the fire continued to grow; bystanders kept it from raging out of control before firefighters arrived. According to the charging documents, Hell has an extensive criminal history; jail records show that she spent nine days in jail in February and four weeks in jail in July and August, both in connection with burglary charges. There was already a warrant for her arrest at the time of the fire; she was arrested in late October and charged with the Smoke Town fire days later. She remains in the Regional Justice Center in lieu of $40,000 bail.
You can follow any responses to this entry through the RSS 2.0 feed. Both comments and pings are currently closed.