UPDATE: Man in wheelchair hit and killed in White Center, second death at 16th/104th in 13 months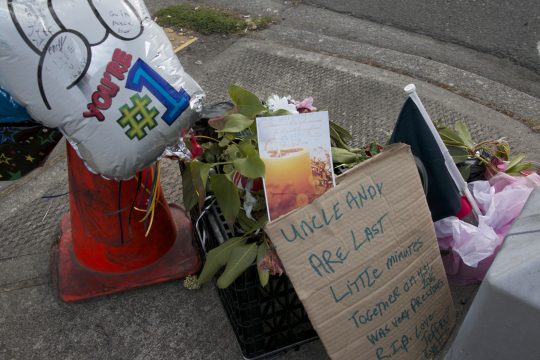 (ADDED: WCN photo, Wednesday night, roadside memorial)
5:44 AM: We have confirmed with the King County Sheriff's Office that someone was killed in a crash at 16th/104th over the weekend. We got a report that deputies had blocked the road there early Sunday but weren't able to go check it out; then we noticed what looked like a small roadside memorial later in the day. Now KCSO confirms a fatality crash and promises more information later today.
6:32 AM: The victim was in a wheelchair when hit and killed by a driver who left the scene but later turned himself in, according to this news release just in from KCSO:
In the early morning hours of Sunday, May 1st, 2016, King County Sheriff's Deputies happened upon a person lying in the street, with a wheelchair next to them, near the intersection of SW 104 & 16th Ave SW.

Deputies were able to quickly determine the victim, a 63-year-old Native American male, had been struck while trying to cross the street in his wheelchair. Deputies and North Highline Fire / Aid crews attempted to render aid but the man later died of his injuries.

The vehicle that had hit the man was initially gone when Deputies first came upon the scene. However, approximately 4 hours later, a 51-year-old Hispanic male, returned to the scene and turned himself in to Deputies. The suspect admitted to knowing that he had hit something, but told Deputies he thought it was a shopping cart. When he learned it was a person he had hit, the suspect said he consulted a pastor and then came back to the scene to turn himself in.

 The suspect was booked for investigation of Felony Hit and Run.


The cause of the accident is still under investigation. The pedestrian in the wheelchair was in a lit crosswalk at the time he was struck.
Checking the WCN archives, we note this is the same spot where a drunk driver hit and killed 55-year-old Rebecca Delgado last year. Online court files show that driver, Jamie Starr Larson, is still awaiting trial.
You can follow any responses to this entry through the RSS 2.0 feed. Both comments and pings are currently closed.