Que Chevere on the way to former Taradise Café in White Center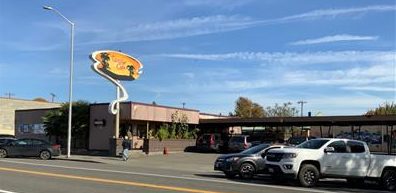 (King County Assessor's Office photo)
By Tracy Record
White Center Now editor
The former Taradise Café, closed since last June – weeks before its proprietor's untimely death – has a new tenant. A restaurant/bar called Que Chevere – "it's awesome" – will open at 9808 16th SW, possibly as soon as next month.
We talked tonight with entrepreneur Felipe Maqueda, who says this will be his first restaurant. And he's adamant that while it will include a bar, the food will be the focus, not the drinks. He says Que Chevere will serve "Latino fusion" cuisine, and will be open for lunch as well as dinner, with an international menu created by a chef with experience around the world. The atmosphere will be family-friendly, he promises.
Maqueda – who lives on Beacon Hill – wants Que Chevere to be not simply a restaurant, but also a true community asset. He explains that he has a community-advocacy background, including co-founding the Fiestas Patrias celebration at Seattle Center, and running a soccer program that helps players advance in their education. He also works on Sounders FC's Spanish-language broadcasts.
He also mentioned a love for music, so we asked if he planned live performances at Que Chevere. Maybe, he said, but they would be more on the "cultural" side – folklorico, for example. He can also envision using the site's big lot for community events like block parties.
But for now, they're focusing on remodeling, and getting ready to open. "Hopefully we can bring something good to the community."
(Before Taradise, the future Que Chevere was the site of Marv's Broiler for almost 40 years.)
You can follow any responses to this entry through the RSS 2.0 feed. Both comments and pings are currently closed.