Early reaction to 16th SW plan, draft design standards, more @ North Highline Unincorporated Area Council's March meeting
By Tracy Record
White Center Now editor
Two projects proposing White Center changes large and small were in the spotlight at the North Highline Unincorporated Area Council monthly meeting, held online last Thursday night.
16TH SW PLAN: Last month, NHUAC got a short presentation about this, and word of a survey. This month brought the full presentation, as the survey continues until March 18th.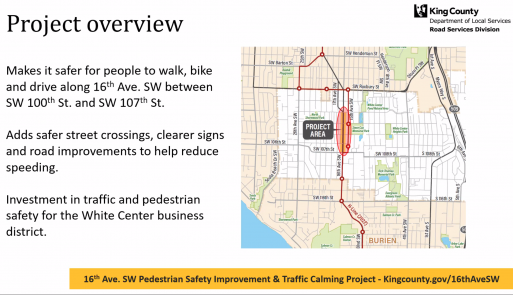 To recap, the county plans to trim 16th SW between 100th and 107th to one vehicle-travel lane each way – the question is what that will look like, and how the rest of the road will be apportioned. "The goal is to reduce speeding and to make it safer for people to cross the street," said Broch Bender from King County Road Services. That section of 16th, Bender said, saw 217 collisions between 2011 and 2020, 19 involving pedestrians.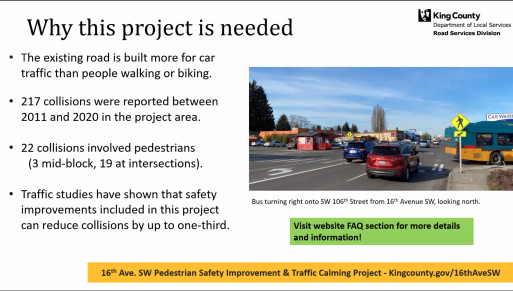 It's a $1.6 million project, with construction expected in summer/fall 2024.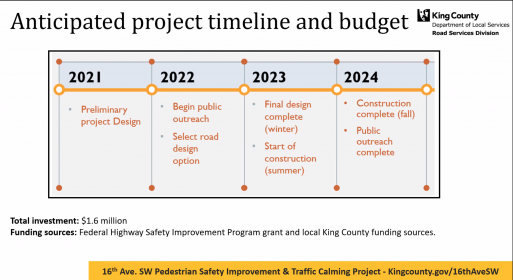 After the county decides which option to build, other aspects will be discussed. Bender had details of the planned improvements at intersections: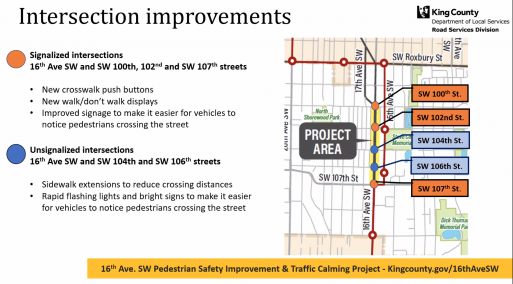 The road currently has two travel lines each way, one center turn lane, and 34 on-street parking spaces in the project zone.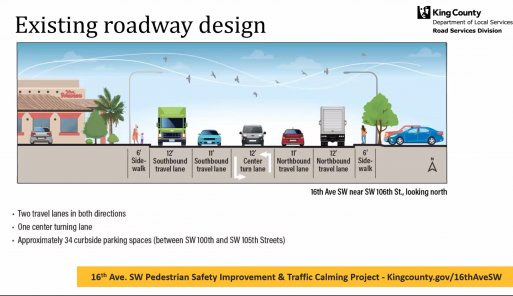 Option 1 would add a buffered bike lane on each side of the street, reduce vehicle travel lanes to one each way, and add 19 parking spaces.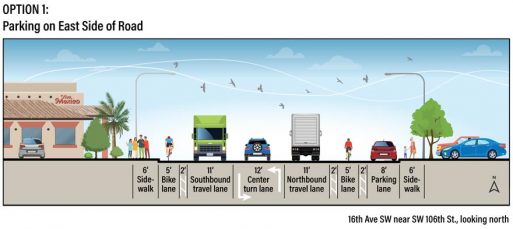 Option 2 would have a parking lane on each side, would reduce vehicle travel lanes to one each way. 39 parking spaces would be added.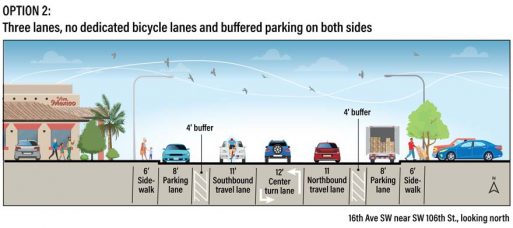 Here's a comparison of components: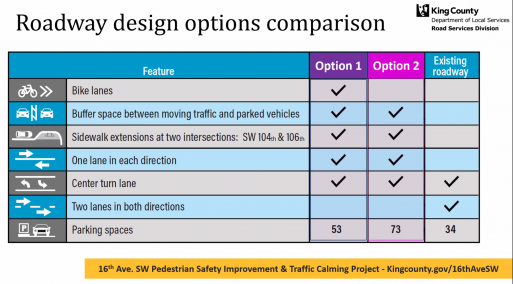 In Q&A/comments, one attendee worried about traffic diverting through neighborhoods, which they said has increased during the West Seattle Bridge closure – could roundabouts be added to discourage that? Bender said they've heard that suggestion from others. They're still evaluating data to address traffic diversion, Bender replied.
Another attendee wondered why parking would be added, since there doesn't seem to be a need for it; yet another was concerned about the bicycle lane placement between other lanes. Fire Chief Mike Marrs wondered about the impact on public safety, with the loss of lanes. Generally, the emergency vehicles use the center lane, was the reply. Will this connect to a bike lane on Ambaum, so it's not just a few orphaned blocks? asked another attendee. It will connect to a new dedicated bus lane south of 107th, and, the county team said, and there are thoughts that bicyclists might be able to use that – they're interested in comments on that. "The combined bus/bike lane is trash," replied the attendee. "I don't even know how that occurred to someone, to put the largest vehicle on the road in the same lane with bikes." Bender stressed to everyone, including those commenting at this meeting, to please use the survey to ensure their comments are "documented – that's how we're going to go about this, what we hear from the community will make it into this design."
Speaking of which, they had some early results (we published the survey link here and on partner site West Seattle Blog after last month's NHUAC meeting) – here's how they've distributed the survey: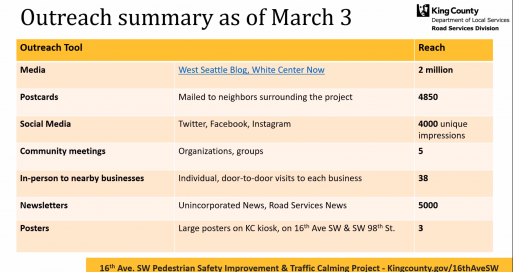 So far, the bike-lane option is leading: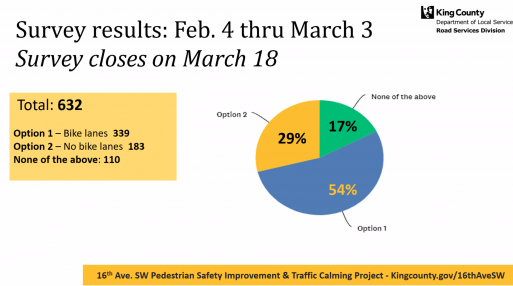 That includes with respondents who said they live nearby: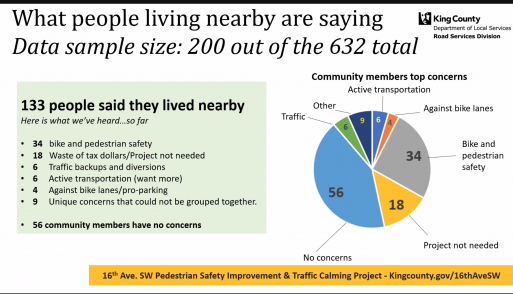 The King County team expects to return to NHUAC later this year with an update. Meantime, take the survey!
There's a survey for the next topic, too:
NORTH HIGHLINE URBAN DESIGN STANDARDS: Jesse Reynolds led this presentation. He stressed that the design standards do not involve zoning: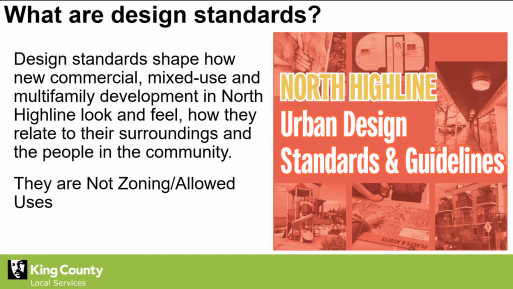 "If zoning was a cake, this would be the icing on the cake" – how the building, street, landscaping look, "what your eye sees as you walk down the street." They're taking comments/ideas through March 28th (here's the survey). Then June 30th they will send a proposal to the County Council. After an array of initial outreach, here's what he said they've heard: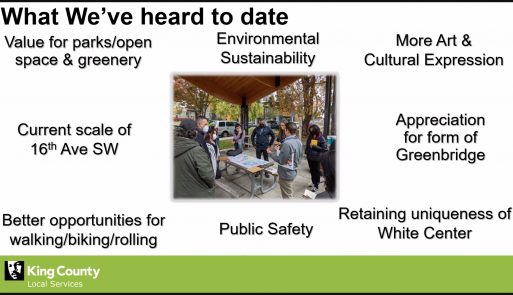 The standards, once developed, will apply to future development. One person thought there should be standards for marijuana businesses; Reynolds said the standards won't affect the use of buildings, only how they look. (In side discussion, Deputy Bill Kennamer noted that there was an application for another shop in the old Rat City Records space on 16th, and it was being challenged.)
Back to the design standards – here's how they'll break down: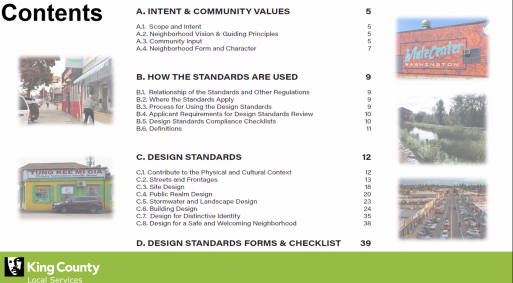 "We're trying to set this up so you all have more stake in how development (plays out) in your community," he said, explaining the public process in which this would result, and showing examples of what's in the draft document, like these renderings of multifamily/commercial development: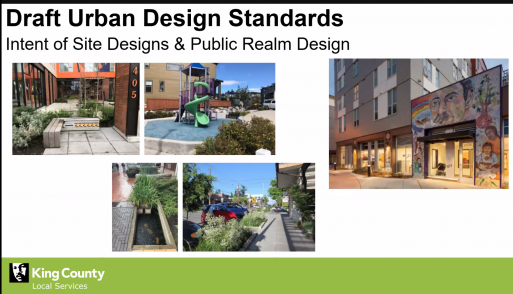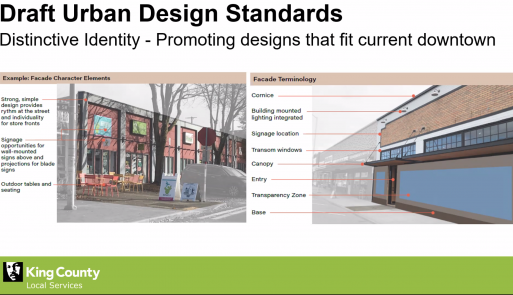 Reynolds also noted a concept called GreenCenter, as a "checklist that requires (a certain percentage of) landscaping." And he said there'll be standards for new buildings so they fit in with the current neighborhood character. Safety concepts, too.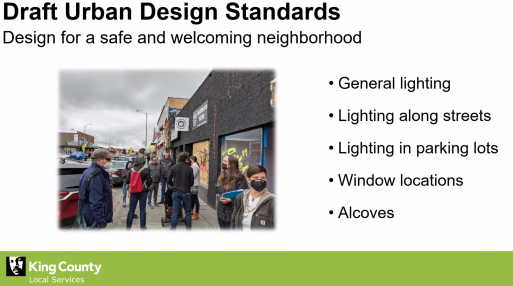 There would also be a Local Business Support Fund into which developers would pay in exchange for increased commercial density.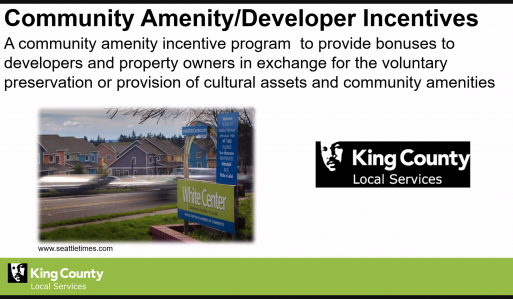 In Q&A, clarification was sought for how prospective developers would be expected to determine the context; that's all spelled out, Reynolds said. NHUAC's Barbara Dobkin asked who's on the committee that's been working on this, as it's the first this group has heard. This is the first "public meeting," said Reynolds. The draft standards will be on the agenda for the upcoming North Highline Town Hall on March 22nd. Meantime, take the survey!
CRIME/SAFETY: Deputy Kennamer said the shooting at the 76 station (it wasn't at the library, as some had reported) was one of the biggest issues of the past month – the 13-year-old victim and another man got involved in a gunfight. One of the guns has been recovered. There was a robbery on 16th. This past month saw a big increase in aggravated assaults, for reasons unknown. Larcenies are down; vehicle thefts are up – "all over the place, not just White Center and Burien," he said. He thinks it's because auto thieves "know that cops can't stop them any more, they can just drive away." Commercial burglaries are down – a prolific suspected burglar remains in jail. Here are the stats: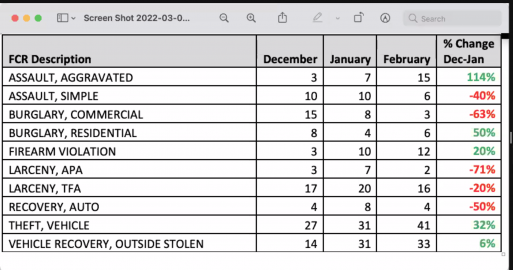 In discussions of traffic trouble, Kennamer noted, "As soon as the West Seattle Bridge gets fixed, 90 percent of our problems will be solved." An attendee brought up an early-morning drive-by shooting at 18th/100th on February 5th and wondered what's going on with the repeat shootings in the area. "Usually they're early in the morning, and nobody saw anything," so there's no evidence to follow.
One attendee said they're glad to hear about the King County catalytic-converter task force and wondered what steps to do to protect a vehicle. Deputy Kennamer said there's aftermarket protection you can install, but it would be better if there were tougher laws about selling catalytic converters. Other topics included loud music in west White Center – the Liquor and Cannabis Board agent in attendance suggested it's a rental venue that has had some really loud events.
ANNOUNCEMENTS: Darlene Sellers from the Teen Program said the fifth season of Log Cabin's Got Talent is coming up, They're accepting videos in all kinds of talent – Saturday, March 19th, is the deadline; March 25th is the show. They'll have a touring arts-and-ice-cream truck stopping at several parks. … Jerry Pionk from Local Services reminded everyone about the aforementioned March 22nd North Highline Town Hall "one last time by Zoom" … Michael Morales introduced himself; he's working on the displaced businesses from the big fires last year, to "help plan out what they want to do next," navigate the permit process, find financing resources. "This block will be rebuilt," he declared.
NEXT NHUAC MEETING: 7 pm first Thursday in April – that's April 7th.
You can follow any responses to this entry through the RSS 2.0 feed. Both comments and pings are currently closed.