VIDEO: Interim Sheriff Patti Cole-Tindall nominated for permanent job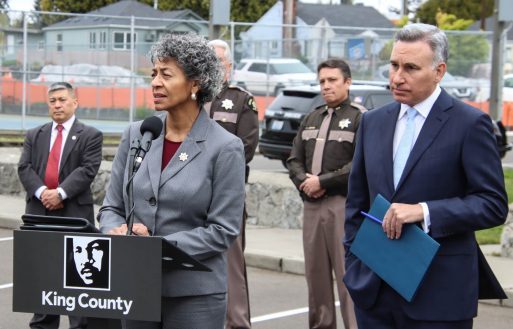 11:22 AM: In the parking lot at Steve Cox Memorial Park this past hour, both King County Executive Dow Constantine and his newly announced nominee for Sheriff, Patti Cole-Tindall, paid homage to the park's namesake as someone who embodied community service. Cole-Tindall, who's been serving as interim sheriff since the start of the year, promised to carry on that tradition. We were there as both spoke with the media, and we'll have the full story plus video later today.
ADDED 12:15 PM: Constantine declared, "I think we have found the right person to lead the King County Sheriff's Office." He noted that he chose Cole-Tindall – who joined KCSO seven years ago – from what started as a field of 12 candidates, narrowed to 3 finalists (the other two were from out of state). He believes she'll "chart a new course" as an "effective leader for change," especially given her background in roles including the Office of Law Enforcement Oversight. Here's how he introduced her:
Cole-Tindall acknowledged she isn't and won't be "a traditional sheriff." She again mentioned Deputy Cox, saying he "loved this community and they loved him back." We asked her about specific plans for the unincorporated communities such as White Center/North Highline, and she said one idea is to create "community councils/action committees" to "hear directly from folks (and) engage with the community." Engagement, she says, is what she heard the most about from members of the public during the hiring process.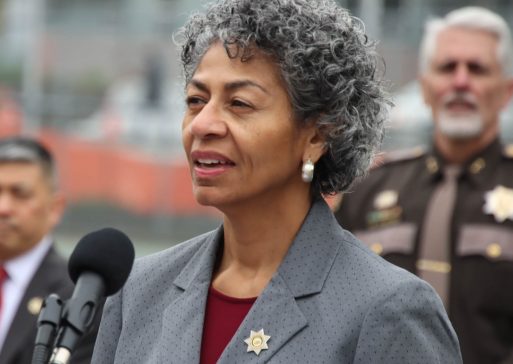 Another of her top priorities will be to restructure the Sheriff's Office. Right now, for example, it has only three divisions, in some cases 'mash(ing) together" unrelated responsibilities. No job loss, she promised. And she wants to work on both employee retention and hiring incentives, as KCSO copes with a staffing shortage like that plaguing so many departments around the nation. Here are her full remarks:
Cole-Tindall's most-recent role in KCSO before interim sheriff was as undersheriff. The County Council considers her nomination on May 18th and Constantine says he's hoping for a final vote by month's end. Meantime, it's been noted that since Cole-Tindall hasn't been serving as a certified officer in recent years, she'll have to go back to the academy, an almost five-month-long process, no later than January. While she's there, "an acting Sheriff from the KCSO leadership team willl be appointed," today's announcement says.
You can follow any responses to this entry through the RSS 2.0 feed. Both comments and pings are currently closed.