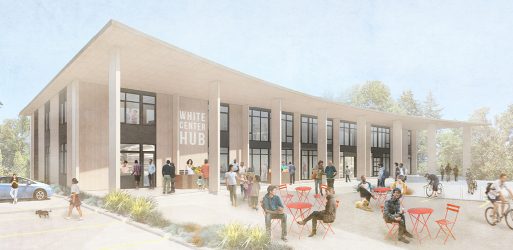 (Rendering by SKL Architects)
Wondering what's up for the White Center HUB project proposed for 8th/108th? Your next chance for an update is next week, in an online meeting. Here's the announcement from Aaron Garcia at White Center Community Development Association:
On May 26, White Center residents and community members can participate in a zoom webinar hosted by White Center Community Development Association, Southwest Youth & Family Services, Community Roots Housing, YES Foundation of White Center, and HealthPoint, to review updates on the HUB project. The HUB will be located on the site of a former public health center.

WHO: White Center community members, residents and business owners

WHAT: The "White Center Community HUB and Homes Open House"

WHEN: Wednesday, May 26, 2021 | 05:30 PM

WHERE: Participants can register for the webinar link on www.wccda.org/hub

WHY: Participants can learn about the project through our timelines, pictures and can contribute feedback to its development.
The original proposal for the HUB included housing, but that was not funded by the state Housing Finance Commission, so Community Roots Housing said the housing and non-housing parts of the project might end up being developed at different times.