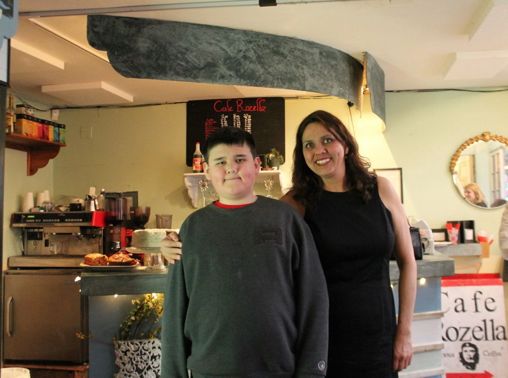 Café Rozella proprietor Leticia Martinez is certainly proud of her coffee shop's new look. But when we stopped in during the "reopening" celebration tonight, we found out she is even prouder of an achievement by her son Patrick – who just got an honor-roll certificate commemorating his 4.0 GPA at Madison Middle School. (Congratulations, Patrick!) He is a fixture at the shop, which has always been a home to art and a celebration of creativity, but is now artistically decorated in its own right: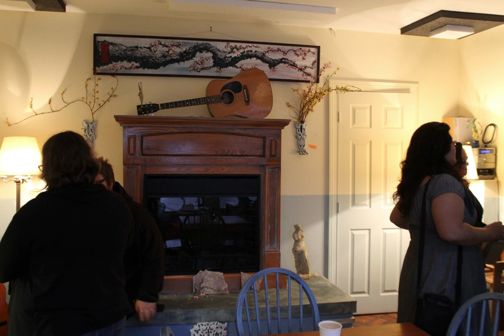 Tonight's event included live music – playing a handmade instrument from Germany, we found Craig Cinderich: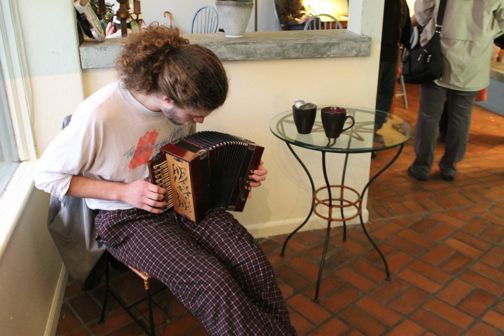 There's also a new menu at Rozella, with added savory/hearty options as well as the to-be-expected sweets (often including Leticia's home-baked breads). Tonight's ringleader, White Center business-community cheerleader Aileen Sison, says there's a celebration ahead on April 20th, too, so if you couldn't make it to the café tonight, mark your calendar.