Newly confirmed King County Sheriff to talk with North Highline Unincorporated Area Council at June meeting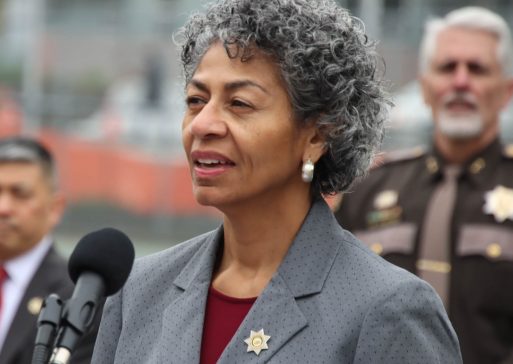 (WCN photo, May 3rd)
Three weeks after she was in White Center being introduced as King County Executive Dow Constantine's choice for sheriff, Patti Cole-Tindall was confirmed by the County Council. And this Thursday, the sheriff will be the spotlight guest at the North Highline Unincorporated Area Council's June meeting. Here's the announcement, with information about how to attend:
The Opportunity to Be Informed, Be Involved and Be Heard!

Where? North Highline Unincorporated Area Council Meeting
When? Thursday, June 2, 2022, at 7 pm

Join Zoom Meeting:
us02web.zoom.us/j/89722266403?pwd=ty1fe6OL4ZpmKewKueNIof31QX7XJh.1

Meeting ID 897 2226 6403
Passcode (Case Sensitive): NHUAC2022

Unable to join via Zoom? Please call 253-215-8782
Meeting ID: 897 2226 6403
Passcode: 008064836

* * * * * * * * * * * * * *

NHUAC's June 2nd meeting will be the last before the summer break and it will be an important one. You will have the opportunity to hear from and talk to the leaders of our local first responders, the North Highline Fire District (NHFD) and the King County Sheriff's Office (KCSO).

Chief Mike Marrs of NHFD has been participating in NHUAC's meetings on King County's proposed Subarea Plan for North Highline. Chief Marrs will join us to discuss the fire district's perspective on the proposed plan, the upcoming 4th of July holiday and the new fireworks ban.

There's a new sheriff in town! On May 24th. the King County Council unanimously confirmed Patti Cole-Tindall as King County's Sheriff. Sheriff Cole-Tindall will make her first visit to NHUAC at the June 2nd meeting. She will be joined by Undersheriff Jesse Anderson, who you may remember as Major from his time as Commander of the Southwest Precinct in Burien and his visits to NHUAC. We welcome them both and, of course, Deputy Bill Kennamer!

Before NHUAC meets again, you can enjoy a tasty breakfast while helping the White Center Kiwanis support our young people! The White Center Kiwanis' 12th Annual Pancake Breakfast will be held on July 16th from 8 am to 12 noon at the White Center Eagles. Tickets can be purchased from any White Center Kiwanis member, Bill Tracy (206-248-2441), or at the door.

You are invited to join the conversation because knowledge is power.

Learn, share, and help make North Highline a healthier community.

June 2, 2022 at 7 pm – Invite Your Neighbors!
You can follow any responses to this entry through the RSS 2.0 feed. Both comments and pings are currently closed.