North Highline's King County Town Hall set for March 22nd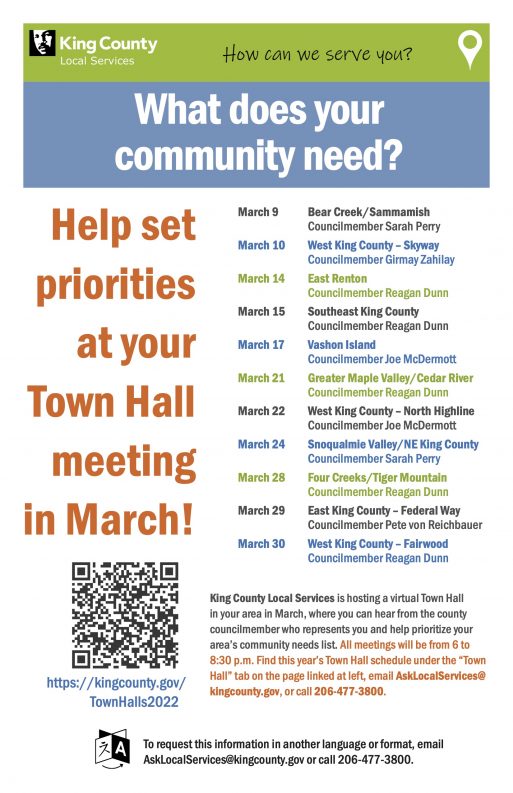 Your local government – King County – is presenting online town halls for unincorporated "community-service areas," and North Highline gets its turn at 6 pm March 22nd. Here's the announcement:
King County Local Services is again bringing local government directly to unincorporated areas with the return of its popular Town Hall series.

As the local government in unincorporated areas, King County will hold 11 virtual events in March. Residents will be asked to prioritize the community needs submitted to Local Services in 2021. These priorities will help inform King County department budgets.

The series will kick off on Wednesday, March 9, with a meeting for residents and businesses in the unincorporated Bear Creek/Sammamish area. Here's the full schedule of events:

March 9: Bear Creek/Sammamish
March 10: Skyway/West Hill
March 14: East Renton
March 15: SE King County
March 17: Vashon Island
March 21: Greater Maple Valley/Cedar River
March 22: North Highline (White Center)
March 24: Snoqualmie Valley/NE King County
March 28: Four Creeks/Tiger Mountain
March 29: East Federal Way
March 30: Fairwood

Each event will run from 6 to 8:30 p.m. via Zoom. Find information about how to join in the Town Halls section of the Local Services website. Questions? email AskLocalServices@kingcounty.gov
You can follow any responses to this entry through the RSS 2.0 feed. Both comments and pings are currently closed.