UPDATE: Taradise Café 'closed until further notice,' blames basement flooding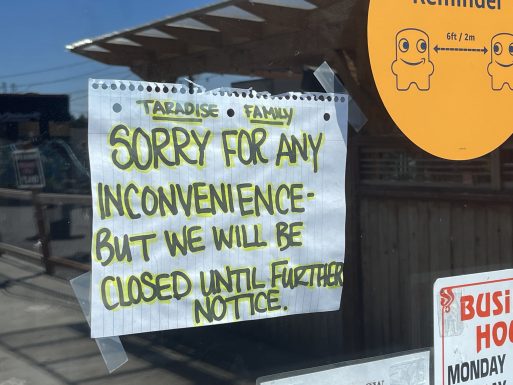 ORIGINAL SUNDAY REPORT: Another White Center establishment that's closed temporarily – Taradise Café. Not because of the heat wave, though. And not, its ownership says, because of the recent shootings outside the establishment that left two people dead. The sign above is what we found on the east front door this morning, checking out reader tips; below is what the café posted on social media Friday afternoon:
Taradise is temporarily closed due to an unexpected flood in the basement. Although this is an unforeseen disruption, the sheriffs came into our establishment looking for any reason to get us shut down. They have been trying to place blame on us for the unfortunate shootings that happened recently although we had nothing to do with it and it was not Taradise customers or affiliates. We're sorry for the inconvenience and will be back up & running as soon as possible. We appreciate all the love and support from our customers, especially those that are regulars. Stay safe & we will see you soon. Nothin' but love!
ADDED MONDAY: We checked today with King County Local Services. One week ago, they opened an investigation based on this complaint from someone, alleging a code violation: "Demolition of covered parking area and remodel of Cafe' including addition of covered exterior seating area and possible other fire and building code violations." However, the case is still open and a Local Services spokesperson says even if a violation is eventually found, this type of violation would not be a cause for closure.
ADDED WEDNESDAY: We also had inquired Monday with Public Health, which finally provided this information today:
During a routine site visit to the restaurant, a basement sewage backup became apparent, which presented an imminent health hazard. The operator closed the facility, as required, and may not resume operating until Public Health can verify the required steps have been taken to resolve the hazard.
You can follow any responses to this entry through the RSS 2.0 feed. Both comments and pings are currently closed.