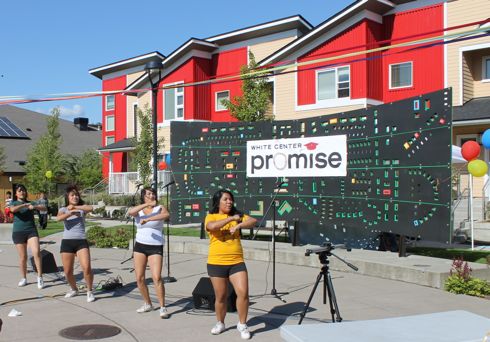 (WCN photo from July 2011's White Center Promise celebration)
Once again this summer, White Center Community Development Association is hosting a celebration of the White Center Promise initiative – which is about to get into full swing. Here's the official announcement of the event that's now two and a half weeks away:
The Promise Summer Celebration 2012 is the second annual event focused on the White Center Promise (WCP) Initiative.

The Promise Summer Celebration will be Friday, August 31, 2012 from 4:00PM-6:30PM and will take place at the Greenbridge Plaza on 8th Ave SW and SW 99th St. in White Center.

Similar to last year's event, the celebration will feature local delicious food and live performances at no cost. This year's feature acts will include: Seattle Kokon Taiko Drummers, Au Lac Vovinam Lion Dance Team and the EriAm Sisters. There will also be a giveaway of book bags to the first 250 K-12 grade students who sign up and the first 150 parents that register will receive a special gift.

White Center Promise is a long-term initiative aimed at eradicating poverty in White Center through a continuum of educational results that bring about social change. The goal is that all children in White Center will graduate from high school and earn a post-secondary credential that leads to a living wage career.

WCP's cradle-to-career range of solutions was developed beginning in 2010 with the help of local residents and supported by local core partners Highline Public Schools, Southwest Youth and Family Services, and the White Center Community Development Association.

A roll-out plan has been created and implementation will take place in phases over the next 5 years beginning in January 2013.