4th annual White Center Promise back-to-school celebration set for August 5th
Just in from Tony Vo at White Center Community Development Association: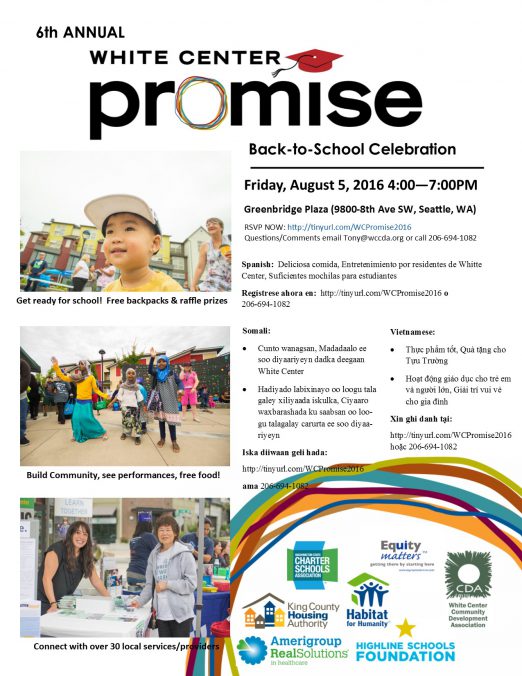 Our 6th annual White Center Promise Celebration will be held on Friday, August 5th from 4:00 PM until 7:00 PM at Greenbridge Plaza, located in White Center at 9800 8th Ave SW.

The White Center Promise aims to eliminate barriers to equity and provide a foundation for family and student success from the time a child is born until they transition from post-secondary to gainful employment.

The celebration kicks off the school year early and connects over 800 students and their families to 30+ community resources, free backpacks and school supplies, local performances and entertainment, and educational activities for parents to take-away. In addition, there will be free food and raffle items.

You can sign up for the event via this link, http://tinyurl.com/WCPromise2016. If you would like to volunteer for this event, please email Tony@wccda.org.

Sponsors of this event includes King County Housing Authority, Equity Matters, Highline Schools Foundation for Excellence, Washington State Charter Schools Association, Habitat for Humanity, and Amerigroup.
First day of classes for Highline Public Schools is September 1st.
You can follow any responses to this entry through the RSS 2.0 feed. Both comments and pings are currently closed.