Video: U.S. Rep. Jim McDermott's hour at Dubsea Coffee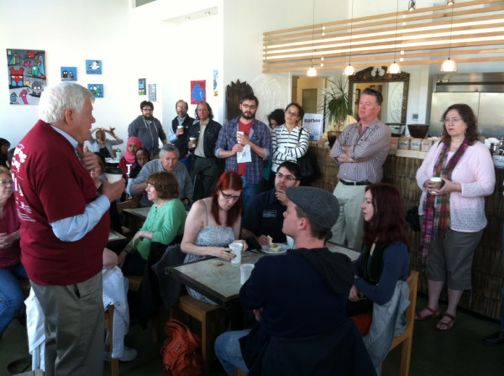 While setup went on outside for the Greenbridge Plaza party that's part of today's White Center Spring Clean, U.S. Rep. Jim McDermott – sporting a maroon Spring Clean T-shirt – spoke to more than 50 people at Dubsea Coffee this morning. His hourlong Q/A touched on topics from Occupy Wall Street to the presidential election to farm subsidies, with much more inbetween. We recorded it all on video and will add that later, along with more toplines.
ADDED 3:23 PM: There's the video – note it's a coffeehouse and a casual roving format, so the audio quality varies greatly!
You can follow any responses to this entry through the RSS 2.0 feed. Both comments and pings are currently closed.