Library update and more @ North Highline Unincorporated Area Council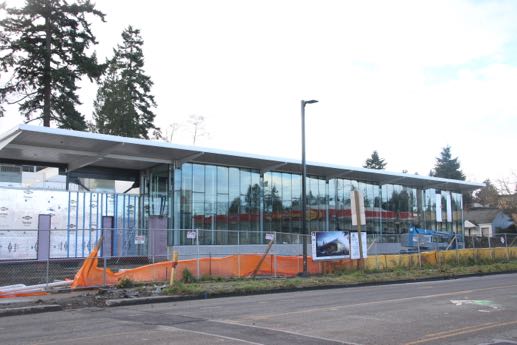 As the new White Center Library gets closer to completion, concerns continue for those who wonder what would happen to it if Seattle – which has its own library system – annexes the area.
That's why the North Highline Unincorporated Area Council invited the King County Library System to send a guest to its December meeting, held at the NH Fire District headquarters last Thursday night.
They got answers straight from the top, library director Gary Wasdin.
First, he provided an update on construction – still on schedule, with the exterior almost complete (as you can see in our photo, taken the morning after the meeting), so the interior work will ramp up after the first of the year. While he cautioned that weather is still a factor, if there are no major storms, KCLS will have an announcement of an opening date sometime in February. Right now, it's still looking like an April opening, but that will be dependent on factors including how long it will take to stock the library and put in furniture.
Next, the annexation-related concerns. While Seattle and King County had had an agreement that the libraries in North Highline would be turned over to the city if annexation happened, Wasdin said that agreement expires at the end of this month. So without a new agreement, annexation at any point after January 1st of next year would leave the libraries in King County's hands. He said he's talked to some of Seattle Mayor Ed Murray's staff but no talks about a new agreement are under way, so at this point, the libraries will remain King County libraries.
Asked about the fate of the current White Center Library site, Wasdin said it's on the market.
STORMWATER 101: King County budget analyst Tricia Davis presented what she described as "Stormwater 101," an overview of how the county deals with stormwater/runoff. She included some discussion of the recent oil contamination in the White Center stormwater-retention pond north of Steve Cox Park; county stormwater employees work with businesses to find best practices for wastewater, too, and she said they have spoken with La Mexicana, which took responsibility for the edible-oil spill that fouled the pond and harmed birds, so they know how better to handle any future situations.
A new stormwater-management fee system is proposed for 2016-2017, said Davis, and they're gathering information in early 2016 to send to the County Executive before fall 2016 budget hearings.
Asked about plans for further protection of Hicklin Lake, Davis didn't have a timetable.
CRIME REPORT: Storefront Deputy Bill Kennamer said everything is down except for 4th-degree assaults, which have doubled in the past year. These are the type of incidents, he explained, that involve pushing or shoving or fistfights, the lowest level of assault.
In other issues, he said the bog encampments are gone; the people who had been camping there were served trespassing notices.
REMEMBERING DEPUTY STEVE COX: NHUAC president Barbara Dobkin led a moment of silence in memory of Deputy Steve Cox; December 2nd – the day before the meeting – was exactly nine years since he was killed in the line of duty on December 2, 2006.
NHUAC meets first Thursdays, 7 pm, at the NHFD HQ, 1243 SW 112th. Check northhighlineuac.org for updates.
You can follow any responses to this entry through the RSS 2.0 feed. Both comments and pings are currently closed.