Trusted Advocates' storytelling, this Friday: 'Our Stories, Our Voices'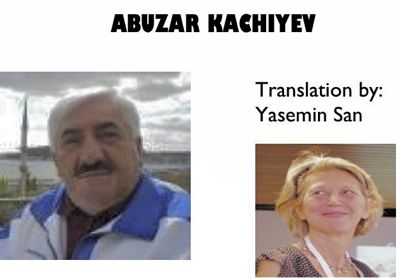 Just might be the most interesting thing you do all weekend – check it out:
You are invited to the monthly TRUSTED ADVOCATES Storytelling Program

OUR STORIES, OUR VOICES

Date:
Friday, June 15th

AT:
The White Center Community Cultural Center
9421 – 18th Ave SW
(& SW Cambridge) – Hillborn Room

Time:
5:30 Light meal from presenters culture/heritage
6:00 Storytelling Program
– followed by Q/A segment

Our Special Guest this month:
ABUZAR KACHIYEV (an Ahiska or Meshketian Turk)
and translated by YASEMIN SAN

Abuzar Kachiyev arrived in the city of Kent as a refugee from Russia seven years ago.

He and other Ahiska (or Meskhetian) Turks living in the Krasnodar region of Russia suffered significant human rights violations until the US government reached out to this community. A limited number of Ahiska Turks, like Abuzar's, were granted the right to resettle in the US. Abuzar, has worked as a civil engineer and has a large family that is very attached to their cultural norms.

Abuzar will talk about the unheard story of a community, the Ahiska Turks of Russia; people without a land, people with no documents, families hiding from ruthless authority … AND their journey to an unknown land, the USA.

Yasemin San moved to Seattle from Turkey in 1979. Upon her arrival, she was immersed in the Turkish community and created a folk dance group, which still performs in festivals and other special events. She was also one of the pioneers of the Ethnic Heritage Council, an umbrella organization for ethnic communities and arts organizations. Yasemin works as a legal interpreter and is an active volunteer in the Turkish immigrant and Turkic refugee communities. She has organized cultural events for the last 32 years.

Yasemin will briefly talk about the Turkish and Turkic peoples (who they are; where they live) and their immigration stories going back to the very early times. She will refer to the cultural aspects of Turks, including some folk customs and rituals.

LEARN SOMETHING NEW!

EAT SOMETHING NEW!

Get out of your house and venture into the neighborhood and meet new people.

They really are quite interesting.

WE'LL SEE YOU ON JUNE 15TH!!!

Any questions call: Nancy Calos-Nakano 206.795.0833 or trustedadvocates@gmail.com

Stay tuned, next Month: Sam Mitsui on Japanese Internment – Friday, July 20th
You can follow any responses to this entry through the RSS 2.0 feed. Both comments and pings are currently closed.