White Center Spring Clean: Paint donation from Second Use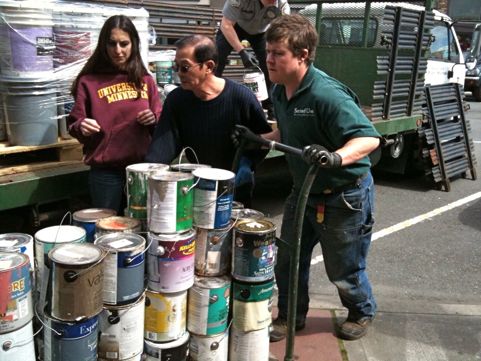 Story and photo by Deanie Schwarz
Reporting for White Center Now
Second Use delivered about 100 gallons of donated latex paint Thursday afternoon to the King County Sheriff's Office White Center storefront.
KCSO's Community Service Officer Peter Truong (photo, center) assisted Second Use Outreach Coordinator Elena Velkov and a co-worker with the supplies. Second Use held a weekend-long drive at their facility adjacent to the South Park transfer station.
Truong said the paint will be used on the upcoming White Center Spring Clean on May 14. WCCDA has a deadline to register projects for the annual event at the end of the month. Last year, 400 people participated – this year, registration isn't quite . The CDA is encouraging community members to register their projects and sign up for what is usually a couple of hours of fun work, community building and free snacks. An online registration form can be found on the CDA's website at wccda.org.
You can follow any responses to this entry through the RSS 2.0 feed. Both comments and pings are currently closed.