South Park Bridge reminder: Shutdown night is almost here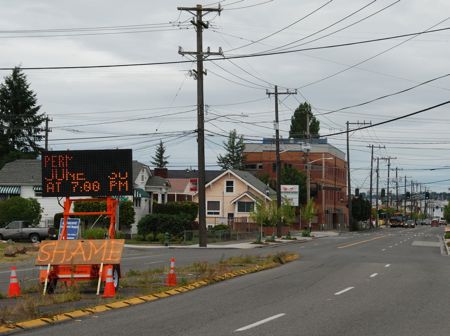 Thanks to Gill for the photo – apparently if you catch that sign at just the right instant, half the illuminated words and numbers disappear. The handwritten sign below, however, speaks more loudly. We're taking the occasion to point you to a news release the county sent around today – for anyone who didn't already have this burned into their awareness, 7 pm this Wednesday is the moment that the South Park Bridge is scheduled to close for good – more like "open" permanently, as the leaves will be raised so vessel traffic can make it through. The community is planning a 6-10 pm wake with art, music and more, and inviting you to be part of what they hope truly will be just a temporary end to their link across the Duwamish … the push for a new bridge now has $80 million of the $130 million funding commitment that's neded. P.S. An important part of the reminder is that the bus routes that are changing because of the bridge shutdown will start their new routes at 5 am Wednesday – so tomorrow is the final full day of those routes (explained here) the way they are.
Tags: south park bridge
You can follow any responses to this entry through the RSS 2.0 feed. Both comments and pings are currently closed.