EDITOR'S NOTE: The Rat City Rollergirls, founded in White Center in 2004, hit the one-decade mark next year. This week, RCRG reps will be live online for a chat with sports editors at SeattleTimes.com (WCN partner), noon Wednesday (March 6th). Meantime, from their recent return to WC, with bouts at Southgate Roller Rink, we have melded their post-bout writeup with photos taken that night by Nick Adams for WCN. Roller-derby play-by-play ahead!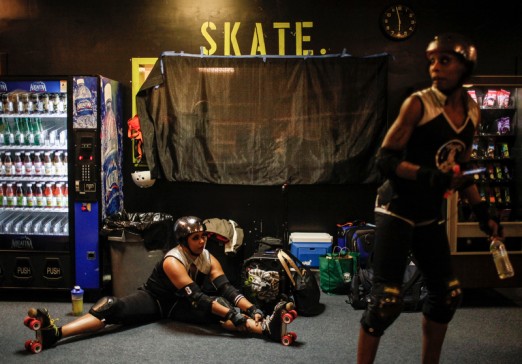 (At left, Foxy Throwdown gets ready, pre-bout)
Photos by Nick Adams for White Center Now
Story by Peter Cozine – Special to White Center Now
The line waiting for entry into the bout was out the door and snaked around the block on 17th SW in White Center. The energy was high as fans flocked to Southgate Roller Rink February 23rd to watch the Rat City Rollergirls battle it out on the roller-derby track where the league got its start nine years ago.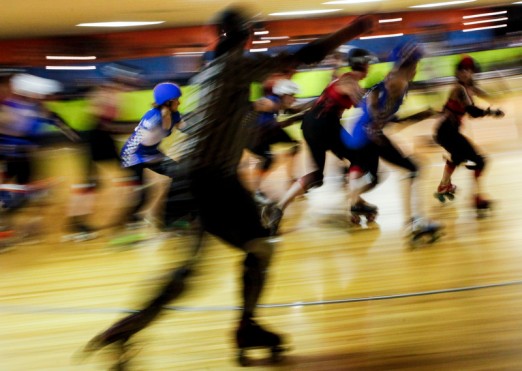 Rat City's four home teams were in action: Derby Liberation Front (DLF) took on the Throttle Rockets (TR) and Grave Danger (GD) played the Sockit Wenches (SW).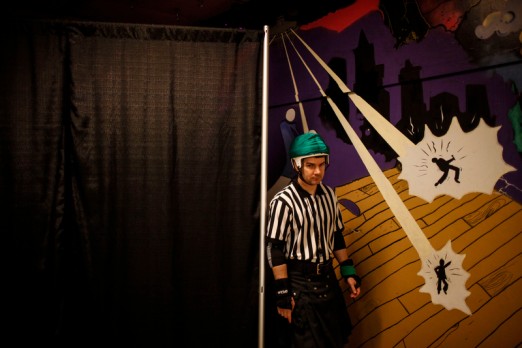 (Referee Don Juan Jovi)
More than 400 fans, skaters, referees, and volunteers packed the rink to watch the Rollergirls take it back to the shiny wooden track at Southgate.
The TRs showed some explosive offense early in the first half, winning lead jammer in 5 of the first 7 jams.