Highline Bears invite you to 'Rename Our Team'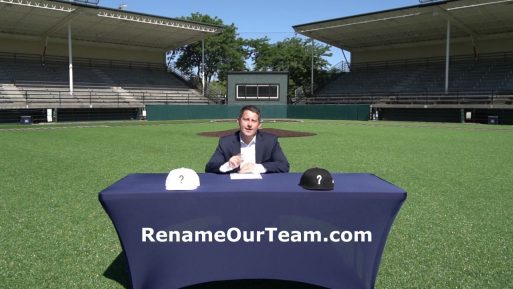 The Highline Bears, the White Center-based summer collegiate baseball team, are looking for a new name and inviting you to suggest one (or more!).
This all began with the recent news that the team's mascot Buntly the Bear was retiring.
.
"Buntly has been the heart and soul of this team since day one. Replacing him with just another bear didn't seem like the right thing to do," general manager Justin Moser explained in a video released this morning.
So the Bears have launched a naming contest. You can suggest a name and send it with an explanation of "why the name embodies the community and greater Pacific Northwest." Submit your idea via RenameOurTeam.com. The team will narrow the list and then ask fans to vote for a winner.
Moser says the team is looking for "a name that's original, that's fun, crazy, and embodies our community and the great Pacific Northwest."
Backstory from the team's announcement:
The Highline Bears launched the team in 2015 and have steadily grown a following in the greater West Seattle/White Center area. The team is a summer collegiate team where players from colleges around the country come to hone their skills during the summer months. Players stay with host families or bunk with local players that are on the team, while playing a rigorous game schedule.

While the baseball is always competitive, the Bears games are beloved for their affordability for families, fun promotions and intimate atmosphere.
The contest runs through 9 am July 4th. Prize: Lifetime tickets for Bears – or whatever the new name is – games!
For more information on the Highline Bears visit www.HighlineBears.com
You can follow any responses to this entry through the RSS 2.0 feed. Both comments and pings are currently closed.