RAT CITY RETURNS TO RAT CITY! Roller Derby this Saturday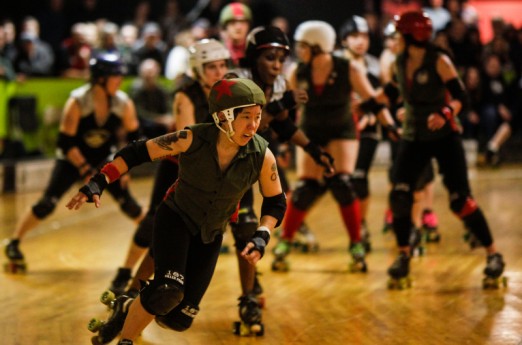 (WCN photo from 2013 Rat City bout at Southgate)
You may remember back when the Rat City Rollergirla were based in White Center. This Saturday, they're returning (as Rat City Roller Derby)! Here's the announcement:
Rat City Roller Derby is going back to where it all began for a special single-header, mash-up bout at Southgate Roller Rink in White Center. On Feb. 8, the Big Grief Maples will play the Western HemBlocks in a nod to not only RCRD's roots, but also its home in the Evergreen State.

Details
Time: 6:45 p.m., doors open at 6 p.m.
Date: Saturday, Feb. 8, 2020
Location: Southgate Roller Rink, 9646 17th Ave. SW

For the founders of RCRD, the throwback game is an important acknowledgement of the league's history and how far it has come.

"Rat City Roller Derby has come a long way since its days at Southgate," said Carmin Thomas, also known as Clobberin' Mame, who was one of the founding members of RCRD and still skates with the Sockit Wenches today. "And we're thrilled to be returning to where it all began for this very special game."

During the game, RCRD will give back to the community that supported it in its early days by collecting donations for the White Center Food Bank. Audience members are invited to bring unopened, unexpired, non-perishable goods to the game to help RCRD support the food bank's mission to keep White Center fed. In addition, local band Burn Burn Burn will play a live halftime show.The after party will be held at Zippy's Giant Burgers, 9614 14th Ave. SW, immediately after the game.
You can follow any responses to this entry through the RSS 2.0 feed. Both comments and pings are currently closed.