From open space to Local Services, and more, @ North Highline Unincorporated Area Council:
By Tracy Record
White Center Now editor
Thursday night's North Highline Unincorporated Area Council meeting was the first of the year, since January's regular night was too close to the New Year's holiday and February's was snowed out.
Here are the highlights:
MORE PARKS AND GREENSPACE? Dave Kimmett from the King County Land Conservation Initiative returned for a followup on his November appearance, which was more generalized regarding the KCLCI. He was invited back to talk about White Center specifics. "I'm out there trying to buy new park lands" is how he explained his role. It's a "fairly new and major initiative coming out of King County Executive Dow Constantine's office." KCLCI has six focus areas, including "neighborhood green and open space." He noted that half a million people living in King County don't have "ready access" to parks/open spaces. So they're looking at the areas – particularly urban communities like White Center and Skyway – that need more green space. Part of this relates to work that's being done by the King County Open Space Equity Cabinet "of 21 community leaders." (See the membership here.) They're coming out with a report soon. In the meantime, as Kimmett's short slide deck concluded: "Tonight is the first of many steps to engage residents (in the) community to help us create more greenspace in White Center." He said the County Council has adopted new code to increase the amount of bond money that can be tapped into to buy land. "This is the first year we're implementing all this."
Asked by NHUAC president Liz Giba whether he had an idea how much land was under consideration for purchase in North Highline, Kimmett said no. "We don't know – we have to spend time to identify where are the right places to invest money," the "right opportunit(ies)."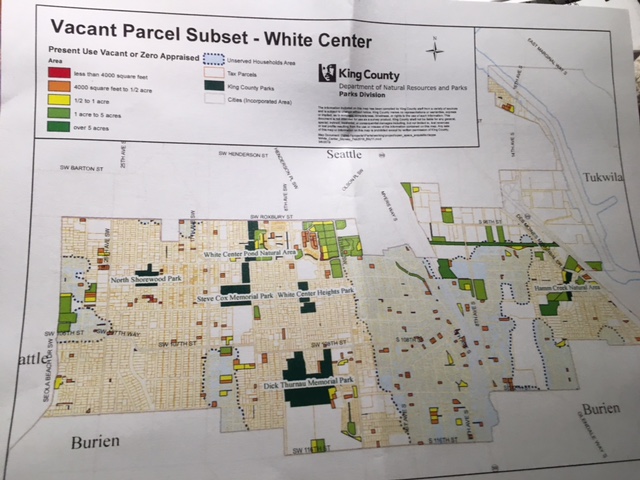 The map he brought showed vacant – per the tax rolls – sites, though attendees quickly pointed out that many of the sites shown on the map were under development or had plans on file.
Kimmett said he hoped one of the next steps might be to assemble a group and/or have a separate standalone meeting to look at these sites and hear community suggestions. They could come up with a list of priorities for purchases, over time.
And then he revealed one might already be in the works: The revelation followed a site suggestion from Storefront Deputy Bill Kennamer, who pointed out a parcel on 8th Ave. S. that's a "problem-solving" site of his. Kimmett said he'd actually been contacted by the site's owners about possibly selling it as potential park land – five forested acres – instead of planning a potential apartment building; they had heard about his presentation last fall.
Subsequent conversation included a suggestion that the county look at the multijurisdictional land along Myers Way. Kimmett also mentioned some land adjacent to King County Parks parcels that is attractive because "we always like to add to what we already have."
Giba also asked about a site that's already county-owned – at 8th SW/SW 108th, where the White Center Food Bank and the temporary Mary's Place shelter are located. While there's been longrunning talk about building a new complex including affordable housing at the site, Giba thought the site could incorporate open space and maybe a longer-term home for the facilities there now. Kimmett mentioned a 14-acre Skyway site that has been eyed for more than a decade but has site challenges (including a sizable wetland) and hasn't found a developer, so it's under consideration now as parkland (the site is known as Brooks Village), so he said he'd look into this site's status. But, Kimmett cautioned, the initiative's success isn't just about buying up a lot of land – it has to be strategic and programmable.
No timeline for all this, yet.
LOCAL SERVICES DIRECTOR: John Taylor made his first appearance since taking over the new department that's tasked with delivering services to the unincorporated areas.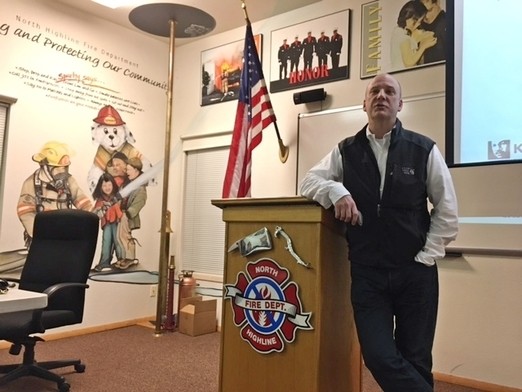 He noted that it's not really a "new department" so much as a reorganization – Transportation was broken up, for example, and Road Services is part of this new department since its responsibilities are entirely focused on unincorporated areas. Creating the department involved only one new hire – they're adding an economic-development program manager for the unincorporated area.
The Permitting Division is also part of it – with improvements planned including "more staff time to respond to customers" and "streamlining requirements for already-built-construction permits" – as are Community Service Areas (of which North Highline is one) and Service Partnership Agreements.
"We're also responsible for knitting together the stove pipes," Taylor noted. He is hoping to help inform the unincorporated areas on what the other departments are achieving, to. Communication and outreach are a big part of it as well.
Along with the economic-development hire, the department is also interviewing for "two new subarea planners," and that will facilitate North Highline planning next year as well as the Skyway-area planning that's under way now.
Road Services funding is still low, Taylor said, as he showed a slide regarding the department's snow and ice priorities, with 28 trucks with plows withs anders, 8 graders, 6 anti-ice trucks, 9 backhoes, 7 front loaders, 5 dump trucks, "to cover an area the size of Rhode Island." They also can deploy County Parks and Solid Waste equipment and personnel – 10 dump trucks with trailers, a grader, backhoe, and over a dozen smaller construction trucks, with 10-15 personnel of those departments driving the trucks. "Leveraging assets from other departments" was something made possible by the reorganization that created Local Services. Taylor noted that the department moved "500 tons of salt in one night" to keep ahead of the February snows – almost half what it keeps on hand each year. He also showed slides detailing the massive response that the snowfall required.
He noted that on some non-priority routes that they couldn't get to immediately, they had to use heavy construction equipment to dig out of snow. But overall, doing all they could do meant it was not the "huge disaster" it could have been. Ideally, though, he said, they could have used 60 trucks rather than 28 – so they're going to look into outfitting trash trucks with plows for potential future use. They're also going to look at plow mounts for other departments' trucks "in case this happens again." And "we're going to look at a funding solution for the county's road problem" – he says the roads are used by people and jurisdictions that don't contribute any money toward them.
Asked what's being done about poor road quality in White Center, Taylor said some sort of resurfacing is being planned – he says that County Executive Constantine basically said they're not going to wait for annexation any more, they're "going to get done what we need to get done."
If you're concerned about development and zoning, that's a topic for the upcoming sub-area planning, Taylor said in response to a concern voiced by NHUAC's Barbara Dobkin. But, he warned, the tradeoff could be more delays for building permits, which is a problem even now – "we're getting beat up" for six-week delays, he noted.
P.S. Taylor's department is running an online survey right now – go to Sli.do and enter #localservices as your event code.
DEPUTY KENNAMER'S UPDATE: He began by saying, "We have been experiencing a push of homeless (people) into the area … since Seattle's squeezing the balloon." He said the Myers Way east-side area that was swept has stayed swept. The 509 cloverleaf areas – "huge" camps – were swept, with WSDOT help, and people who were there were offered shelter, but he got no takers, he said. "I don't know how to fix that," he lamented.
Otherwise – low-level crimes are "significantly down" in the area, but "our more-violent crimes are up." Most of the recent high-profile crimes have been solved, he said.
Deputy Kennamer was asked about a transient drug user "behind the Pizza Time" and says he can't arrest the person "because prosecutors won't file .. the political climate has to change" for cases like that to be pursued.
He also said that while the area is densifying, particularly with redevelopment in the Greenbridge area, the number of deputies assigned to it has not. "Two cops are working … right now" in the area, he noted. "The guys tonight are running ragged."
"That's unacceptable," said an attendee.
Kennamer said that citizen advocacy is the only way to change that. "Without pressure, it's not going to change." A discussion of the county-budget-cycle timing ensued.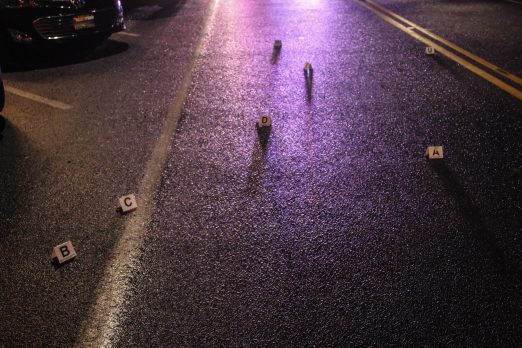 (WCN photo from February 22nd)
Asked about the gunfire near 16th/98th two weeks ago, he said it was "between two groups." Not a random situation? pressed the attendee. "The location might have been random," said Kennamer.
One attendee asked about the recent 509 shootings and thought there should be more publicity about those.
ANNOUNCEMENTS: Dobkin brought up the Camp Second Chance situation – as we've reported on West Seattle Blog, the Highland Park Action Committee is opposing extending its stay on the Myers Way Parcels … The White Center Kiwanis's recent fundraising dinner was a success … A donation drive for hygiene kits for people living unsheltered is happening at Cascade Middle School … And then, an announcement that drew gasps of delight: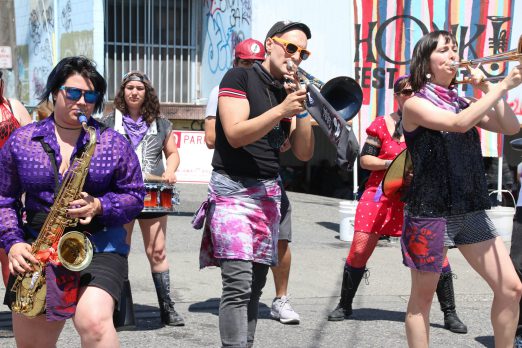 (WCN photo from June 2018)
HONK! Fest West is coming back to White Center on June 1st, closing 16th on a smaller footprint, Roxbury to 98th. The rep who announced that was invited to return to NHUAC in May with a briefing … A King County Parks rep said youth programs are on track to smash records, plus the White Center Repair Event is coming up this Saturday: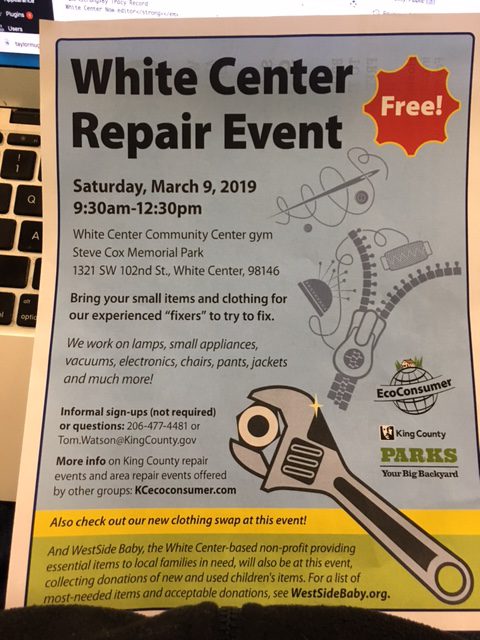 She also said that Steve Cox Memorial Park Fields 2 and 3 are expected to open within the next few weeks; Field 1 is lagging a bit, in need of post-snow turf repairs.
UPCOMING MEETINGS: A LEAD program rep and CHI Franciscan rep are expected to be next month's guests; Taylor and Permitting reps are being invited for May. … NHUAC meets first Thursdays most months, 7 pm, at the North Highline Fire District's headquarters.
You can follow any responses to this entry through the RSS 2.0 feed. Both comments and pings are currently closed.