Native leaders, advocates gather for Racial Equity Team's historic Lunch and Learn in White Center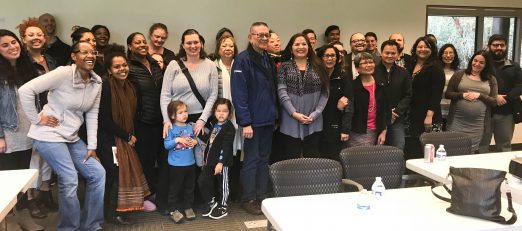 By Tracy Record
Editor, White Center Now and West Seattle Blog
Progress, challenges, and inspiration filled a first-of-its-kind lunch meeting at the Technology Access Foundation's Bethaday Community Learning Space in White Center on Wednesday.
The Racial Equity Team – a People of Color-led advocacy group explained here – organized a Tribal Lunch and Learn event, with two Native leaders front and center (as they are in our photo above) – State Sen. John McCoy and former Sen. Claudia Kauffman.
"It is tremendously important that we work together to better understand and serve our Native communities in Washington state. Hearing from Native leaders is the first step in this process," declared the event announcement.
McCoy has been in the Legislature for 15 years. Kauffman served in the State Senate for one term, 2007-2011. They were joined on Wednesday's panel by Eir Cheeka, Early Native Learning Coordinator from the White Center Community Development Association, and Aren Sparck, Government Affairs Officer from the Seattle Indian Health Board.
The conversation was wide-ranging. Kauffman stressed the importance of maximizing "assets and opportunities." She recalled organizing a group of Native women for a trip to Olympia, where they toured state offices, and advocated for state action on behalf of missing and murdered Indigenous women (a new state law was signed just two weeks ago).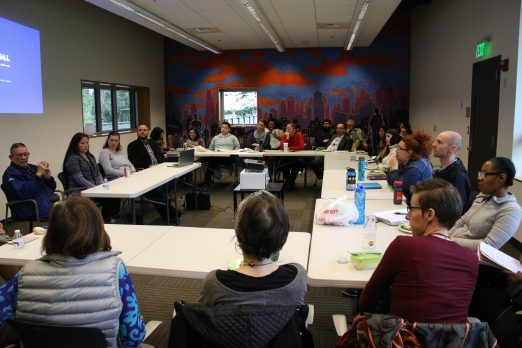 In Q&A, Kauffman was asked what led to her becoming a legislator. "I've always been in politics!" she replied, citing inspiration dating back to childhood. She said those who inspired her included former Montana state legislator Carol Juneau (who is also the mother of Denise Juneau, who is in negotiations to become Seattle Public Schools' next superintendent).
WCCDA's Cheeka spoke of her journey to advocacy, and the importance of education – both in her life, in her work, and what she is considering now as a parent of young children who will be in school soon. She also shared memories of life-changing events, such as the 1989 Paddle to Seattle.
How can non-Natives help with the fight for equity? she was asked. Educating yourself is the first task, Cheeka said, who also advised seeking out Tribal leaders and Native professors and other educators, asking questions.
Sen. McCoy picked up the discussion of education, recounting the system being geared toward "assimilation, institutional racism … (and) belonging to the whites," so "we really don't have a handle on the data around who's in our schools … we are trying to correct that." He serves on two committees, co-chairing the Educational Opportunity Gap Oversight and Accountability Committee. The lack of data is a major concern to him, and he fears it will get even worse with the Census results after the Trump Administration's addition of a citizenship question. The count is important, McCoy stressed, because "that's how we get funding" – it's important to get the data "so we know who we are working with."
Last to speak was Sparck from the Seattle Indian Health Board, and he brought a slide deck with a primer, "Urban American Indian and Alaska Native Health 101." The history lesson went back to the "doctrine of discovery" starting in 1492, continuing to the present day, and talking about the unique status of Natives. He, for example, is an Alaska Native, and notes that "just because I leave my hometown I don't stop being a Cup'ik person." You don't have to be an enrolled member to get service from Urban Indian health programs: "We work with everybody."
There was a little more Q&A time before the event wrapped up, and that led to participants' acknowledgment of communities working in solidarity – different Native communities, and beyond that, different communities of color. It's vital to include youth in leadership development, participants agreed.
Concluding the lunch meeting, the RET's community liaison, former state legislator Velma Veloria, declared it a "historical moment for equity and education," commemorated with a group photo (as seen atop our story). To find out about future RET events, you can e-mail info@eec-wa.org.
You can follow any responses to this entry through the RSS 2.0 feed. Both comments and pings are currently closed.