UPDATE: Gunfire investigation on 1st Avenue South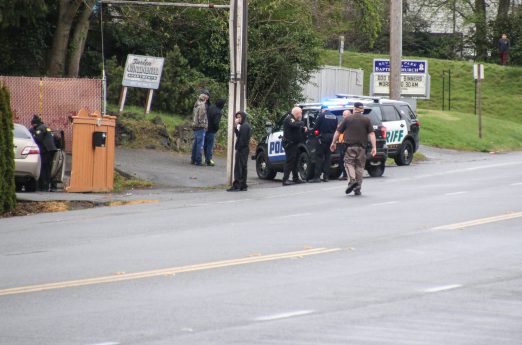 (WCN photo by Patrick Sand)
ORIGINAL REPORT, 4:18 PM: We are awaiting official info from the King County Sheriff's Office but so far via the scanner we hear they are closing 1st Avenue South between 116th and 124th to investigate gunfire. No one shot, so far as we have heard, but at least one car is reported to have been hit. Deputies are looking for a vehicle with suspects, described so far as a white Camry. We're headed down to check on the road situation and will update.
5:44 PM UPDATE: The road is reopening. KCSO says, "This appears to be a road rage incident that turned into occupants of 1 vehicle firing multiple shots at another vehicle. Those occupants of the 2nd vehicle returned fire and then crashed into 2 parked cars and a fence. No one injured, other vehicle fled the scene."
You can follow any responses to this entry through the RSS 2.0 feed. Both comments and pings are currently closed.