@ North Highline Unincorporated Area Council: Crime, shelter, county concerns, more…
A few days before Sunday morning's White Center murder, crime concerns were in the forefront at the North Highline Unincorporated Area Council's May meeting.
A King County Sheriff's Office gang expert was rescheduled for the meeting but was sidetracked again, this time because of an incident shortly before the meeting, an incident in Burien that was reported to have turned up five guns.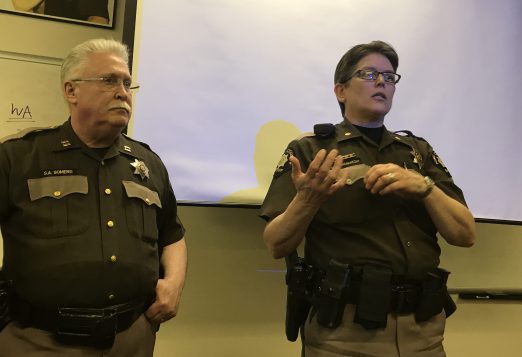 KCSO was represented at the meeting by Major M.G. Johanknecht and Capt. Scott Somers, right and left in the photo above, as well as storefront Deputy Bill Kennamer.
In the crime stats, "Part 1" crimes – from homicide to burglary to arson and more – are down from this time last year, 62 in the area this April, 75 in the area last April. "Part 2" crimes, a longer list, are up, 114 this April compared to 96 a year earlier. Auto theft is up a bit, 18 in April 2017, 15 in April 2016. Burglaries are down – forced-entry residential burglary, for example, 4 this April, down from 10 a year earlier.
The major mentioned that she'll be working to start a Citizens' Academy for the White Center area soon.
PREVENTING YOUTH MARIJUANA USE: Vilia Wang and Maddison Story started off the night. They got a $10,000 grant to work with kids to deter early marijuana use, based on some stats they gathered talking to Cascade Middle School 8th graders. Their responses indicated more had tried marijuana and alcohol in comparison to statewide averages. The program plans a 3-5:30 pm open house at White Center Library to talk about resources for youth and to show the phone app they're working on – here's the flyer.
QUESTIONS FOR THE COUNTY MEETING: As mentioned last month, King County's unincorporated service-area town halls are coming up, including 7-9 pm June 7th at Seola Gardens. NHUAC president Liz Giba reminded those in attendance that it's an excellent opportunity to bring up concerns with county leaders – Council Chair Joe McDermott, Sheriff John Urquhart, and Deputy County Executive Rhonda Berry are scheduled to be at this one. Here are some of the issues NHUAC wants to hear about from county reps:
– Economic diversity and housing policy so that there's no further concentration of poverty in the area. –
– Regarding marijuana policy – how much tax money has been taken in overall and from the NHUAC area specifically; how much was generated in North Highline and what's coming back
– What's happening with the county's share of Myers Way?
– What's happening with the proposal for safe-injection sites?
– Gangs
– The West Point sewage spill
– What's happening with annexation from the county's side?
– How can the Sheriff send more officers, especially with new big developments – especially with the big development in Top Hat?
FAMILY SHELTER: Mary's Place announced that the shelter has reached the first-phase capacity, 30 people – eight adults and 22 kids. As the community wanted to see, those who have arrived so far have kids in Highline Public Schools. So they're taking "the next step," it was announced, to increase the number of people served to 70.
They've arranged with the Evergreen Aquatic Center to use showers there, since there's still a shortage of those facilities at the shelter building itself, though they're working on that. An open house for the public is also planned, and they're looking for volunteers – you can stop by to ask about opportunities. The Mary's Place website is the best source for lists of what donations are needed but it was mentioned at the meeting that plus-size clothing and hygiene products are needed.
The North Highline Unincorporated Area Council meets first Thursdays most months, 7 pm, at the NH Fire District HQ.
You can follow any responses to this entry through the RSS 2.0 feed. Both comments and pings are currently closed.