FOLLOWUP: Investigators asking for help in solving White Center murder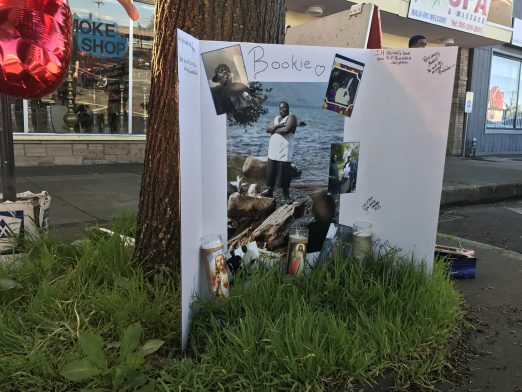 Update just in on the Sunday morning murder, from King County Sheriff's Office spokesperson Sgt. Cindi West:
Detectives said a birthday party was being held at a bar in the 9800 block of 16 Ave SW Saturday night into Sunday morning. About 1:30 am a fight broke out between two groups of women inside the bar. The fight ended up outside and numerous people were either watching or participating in the disturbance.

After the altercation was over, the victim, a 31-year-old Seattle man, walked across the street with a woman who had been in the altercation. He stood with a group of people for moments before a man in the group pulled a gun and shot him in the head, killing him. The suspect then ran southbound, got into a vehicle and drove off.

Detectives believe the suspect vehicle is a white, 99-01 BMW station wagon. The suspect is described as a black male, and was last seen wearing a dark colored hoodie.

Anyone with information or who may have taken cell phone video before, during or after the shooting is asked to call the King County Sheriff's Office at 206-296-3311. Additionally anyone who may have been driving in the area or picked someone up from the area is asked to call. You may also be eligible for a reward of up to $1,000 and remain anonymous by calling Crime Stoppers at 800-222-TIPS (8477)
You can follow any responses to this entry through the RSS 2.0 feed. Both comments and pings are currently closed.