Driver charged in deadly April crash, said to have had blood-alcohol level 4 times legal limit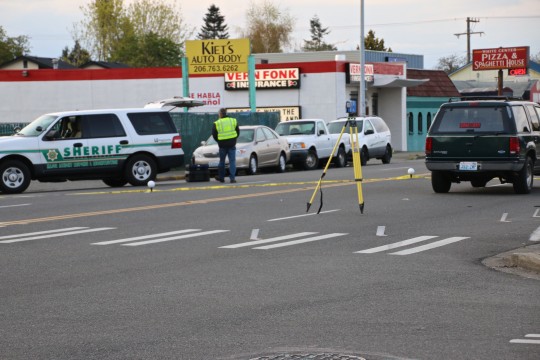 (WCN photo from April 2015)
Six months after 55-year-old Rebecca Delgado died from injuries suffered when she was hit while crossing 16th SW at SW 104th, the driver who hit her is charged. 50-year-old Jamie Starr Larson of Burien got out of jail after a few days, while Ms. Delgado was still fighting for life in the hospital, a fight she lost eight days after she was hit. We've been checking on the case periodically for months, and this week, the King County Prosecuting Attorney's Office charged Larson with vehicular homicide.
The charging documents begin starkly: "On March 31, 2015, the defendant, Jamie S. Larson, turned 50 years old. She celebrated by drinking alcohol for the next two days." On April 2nd, she thought she was sober enough to drive – though she was unlicensed and uninsured. That's the day she hit Rebecca Delgado in a marked crosswalk, with flashing beacons activated by Ms. Delgado's husband, and with another driver stopped for her; the documents say Larson whipped around that driver, and that's when she hit Ms. Delgado.
Larson is said to have told investigators at the scene that she had only had three beers, but she didn't do well on the field-sobriety tests, and a blood test administered later led to an estimate that her blood-alcohol level at the time of the crash would have been .32, four times the legal drunkenness level. The charging papers say she also had taken an anti-depressant, that she admitted having a substance-abuse problem, and that she has one drunk-driving conviction on her record from 21 years ago.
You can follow any responses to this entry through the RSS 2.0 feed. Both comments and pings are currently closed.