PHOTOS: Cleanup at 'The Bog,' before and after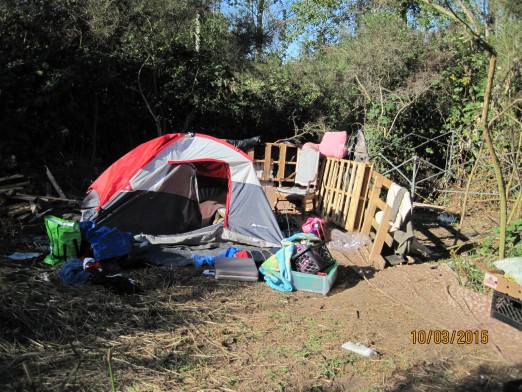 We've reported before on efforts to clean up "The Bog" – and to make it less conducive to illegal camping, drug use, and crime. Aside from other concerns raised by those activities, the fact is that the area needs to stay clean because of its role in the area's drainage system (as today's rain reminds us).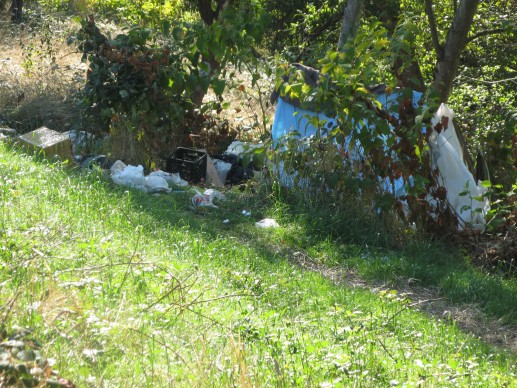 The latest cleanup was a big one, and community member Gill Loring shares photos as well as post-cleanup info from King County senior engineer Ken Gresset, who, as we've reported here previously, has been leading cleanup efforts:
This past weekend, Ken and a group "Friends of the Trail" (their second time helping out) as well as a NH resident and her daughter got to it.

Excerpted from Ken's e-mail: "Many thanks to all involved for a great cleanup last weekend. The group "Friends of the Trail" led by Wade Holden pulled out all the stops over two days and took 8 large truckloads of debris to the dump along with around 40 syringes.

Many thanks to Deputies Kennamer, Paul and Syson for their onsite security work and for Captain Boe for arranging their presence. Thanks also to North Highline residents Christine and her daughter who braved the onsite conditions to help out. The Sheriff's department gave the campers three weeks of almost constant notice that the cleanup was coming and to take any possessions they wanted to keep with them.

On another bright note we did encounter one of the campers who seemed sincerely interested in getting help and we are working with a neighbor who knows her to get her connected to social services."

Excerpted from another e-mail: "I walked all of the trails today. I didn't find any camps and only encountered one person in the area. I explained the trespass laws to him and he moved along.

The key is going to be continued police presence to make the place unattractive to the illegal users. As soon as the place is posted, we will start enforcing the trespass laws. The place looks great!"

And from the North Highline resident who helped: "My daughter & I were able to help for about an hour or so…It was disgusting, smelled really bad back there & yet people were willing to live in that! Ken, the "trails crew" was great! They pulled out several mattresses, sofa, tv, clothes & crap – yes, really! Hopefully in the future there can be a work party to start clearing out some of that brush to open things up a bit more! I'd be there, just let me know when!"
You can follow any responses to this entry through the RSS 2.0 feed. Both comments and pings are currently closed.