UPDATE: Woman in critical condition after being hit by suspected drunk driver in White Center
(UPDATE FRIDAY AFTERNOON: KCSO says the victim is still alive, in critical condition)
6:39 PM: Thanks for the tips via Twitter. We're on our way to find out more about the crash that has closed 16th SW north of 107th. According to a tweet from KING TV, a pedestrian was hit and seriously hurt. Avoid the area TFN.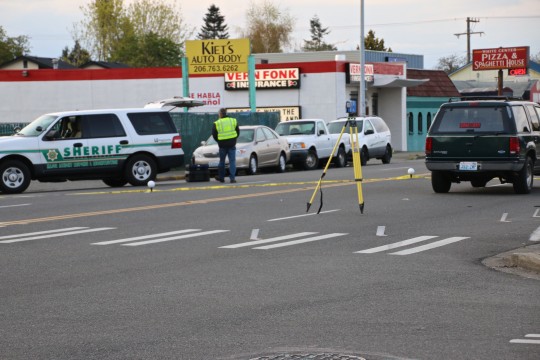 7:08 PM: Sgt. BJ Myers of the King County Sheriff's Office confirms that a pedestrian was hit and is reported to have been seriously hurt; the driver is in custody for suspected DUI. Sgt. Myers says investigators are likely to be on scene for a few more hours. Driving by on the way to the North Highline Unincorporated Area Council meeting, we noted the closure appears to be from 106th northward now.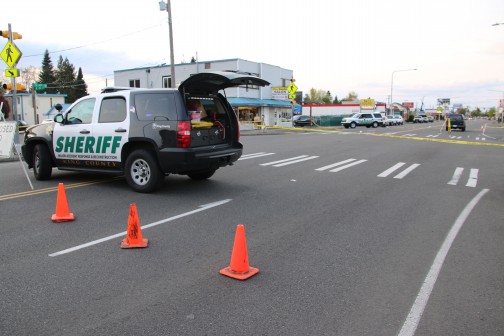 7:24 PM: According to Sgt. Myers, the victim is a 50-year-old woman in serious condition. The driver is a 55-year-old woman. And the road's expected to be closed until about 8:30. Meanwhile, our photographer has just sent photos from the investigation scene, which we're adding above.
8:57 PM: Just drove through the area – 16th is open again.
8:33 AM: KCSO announced this morning that the victim died at the hospital. The driver is now booked for investigation of vehicular assault.
12:16 PM: KCSO now says they had erroneous information. The victim is STILL ALIVE but in critical condition.
You can follow any responses to this entry through the RSS 2.0 feed. Both comments and pings are currently closed.