Followup: Crews making cleanup progress at 'The Bog'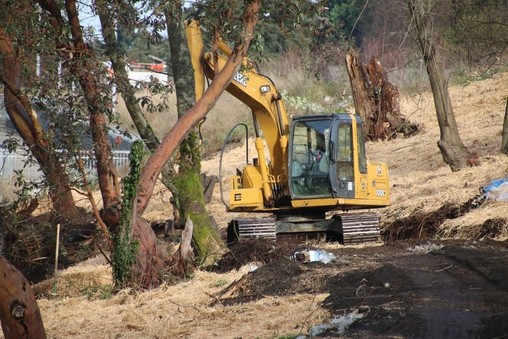 (White Center Now photographs by Patrick Sand)
King County crews are continuing to clear overgrowth, and more, by "the bog," a site that has been something of a dangerous hiding place in recent years. This information is from Ken Gresset, who briefed the North Highline Unincorporated Area Council in November:
Much progress has been made at "The Bog." The patrol road is in and leads 200 feet to a spot where the rest of the site can be inspected by spotlight. We will be back on the site on Monday and Tuesday to clear out remaining brush.

The site is well protected against erosion with 130 bales of straw spread on the disturbed earth and logs staked at the base of the slope to intercept any silt that would wash down from the hillside.
We stopped by at midday Friday for our photos – county crews were only allowing visitors on the site during their lunch break, so they wouldn't run the risk of winding up in the path of heavy equipment. One crew member told us they had continued to find syringes and needles from drug users known to frequent the area. (See what they've encountered before, in these photos we published days after the November briefing.)
You can follow any responses to this entry through the RSS 2.0 feed. Both comments and pings are currently closed.