Happy 5th anniversary, Proletariat Pizza!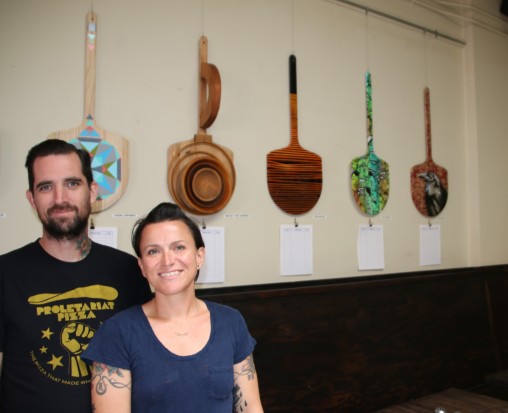 While out covering the United Way Day of Caring this morning, we stopped by Caffé Delia for coffee, and learned big news from their neighbors at Proletariat Pizza – Mike and Stefanie Albaeck told us they have just marked five years of serving "the pizza that made White Center famous." In August 2009, we showed a photo of the sign going up outside their restaurant on 16th SW in the heart of the main WC business district; a few weeks later, they were open and have been drawing crowds ever since. By the way, see those artistically decorated pizza peels behind Stefanie and Mike? We're told they are up for silent auction for a few more weeks, with proceeds going to the White Center Food Bank. Go in and make a bid! And congratulate the Albaecks, while you're there.
You can follow any responses to this entry through the RSS 2.0 feed. Both comments and pings are currently closed.