'Dick Thurnau Day' in King County today, honoring tireless community advocate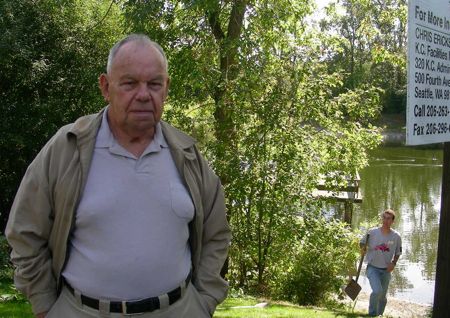 (WCN photo of Dick Thurnau from 2008)
A special honor today for a man who's worked hard, well into what should have been his sit-back-and-rest years, to improve his neighborhood: Today is "Dick Thurnau Day" in King County, by special proclamation, it was announced at last night's North Highline Unincorporated Area Council meeting. NHUAC president Barbara Dobkin shared the image of the official proclamation document:
As the proclamation acknowledges, Dick, now 89, has lived near Lakewood Park for decades and has been particularly devoted to protecting, improving, and advocating for its small lake, now known as Hicklin Lake. Just last year (WCN coverage here), "floating islands" were put in place to help improve its water quality, after a long campaign by his group Friends of Hicklin Lake to get something done. He also tended to the land side of Lakewood Park, organizing volunteer cleanups, community barbecues, and much more.
We're told Dick is in a new fight now, having recently been diagnosed with cancer. If you would like to send well-wishes, his address is 1031 SW 112th, zip code 98146.
You can follow any responses to this entry through the RSS 2.0 feed. Both comments and pings are currently closed.