Burien, Seattle, and fire districts reach an annexation-process agreement for White Center/North Highline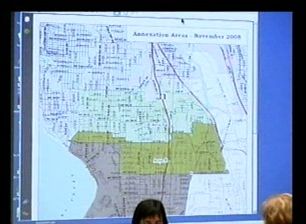 (screengrab from tonight's webcast of annexation announcement at Burien Council session)
8:54 PM: It's just been announced at tonight's Burien City Council work session. The councils of Burien and Seattle, and two fire commissions, have to sign off on the deal – but the cities and fire districts have agreed on a variety of points, after several weeks of mediated discussions, regarding Burien attempting to annex the area it's been trying to annex (with one exception – the King County fire station at 112th/12th has been taken out of the zone, because Seattle says it's important for protecting the Arbor Heights area) and Seattle POTENTIALLY trying to annex the rest of the White Center/North Highline area. More to come – Burien City Manager Mike Martin is laying it all out right now. ADDED 9:05 PM: Even once the elected officials agree, of course, residents of the respective areas would have to approve any annexation plan – and the deal gives Burien and Seattle till January 1, 2012, without either trying to interfere with the other's respective potential annexation attempt(s); if the deals aren't done by then, all bets are off. Another key part of the deal, besides the fire station: Burien will support state legislation that would allow Seattle, as well as Burien and smaller cities, to benefit from sales-tax credits relating to annexation – up to $5 million a year for 10 years. More discussion of this deal is expected at next week's Burien Council meeting.
*
Tags: Annexation, burien, north highline, white center
You can follow any responses to this entry through the RSS 2.0 feed. Both comments and pings are currently closed.