New in White Center: New Traditions – and you're invited to an open house today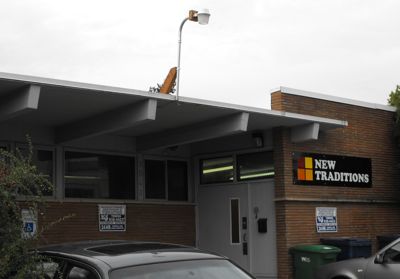 Across from the Salvation Army building, you'll find New Traditions – a simple name that doesn't reveal much about what happens there, or the fact the women who founded it, and opened it in White Center just two months ago, are doing something they say no one else in the Seattle area does: Offering chemical-dependency treatment for female clients, by female providers, while also offering care for their children, in cheery rooms like this one for babies: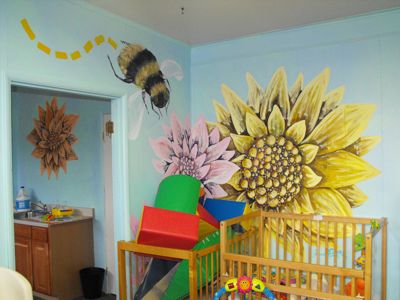 New Traditions is accepting new clients, but that's only part of why they're inviting people to visit 3-7 pm today (9045 16th SW; here's a map) – but they also will be happy to meet White Center and West Seattle neighbors who want to know what their work is all about. We visited recently to find out more ourselves, including what the special significance of an all-female setting can be – read on:
New Traditions co-founder and executive director Jill Gresham says there are many reasons that women feel more comfortable getting care in this setting: "A lot of women in active addition go through periods of prostitution, or had sexual trauma in their past, or may be experiencing domestic violence," so they may not feel as comfortable discussing such things in a "coed" therapy group or with a male therapist. She says there's also the shame of being an "addict mom," and they need to help clients get past that shame so they can start recovering. Here's another of the rooms where New Traditions clients' kids spend time: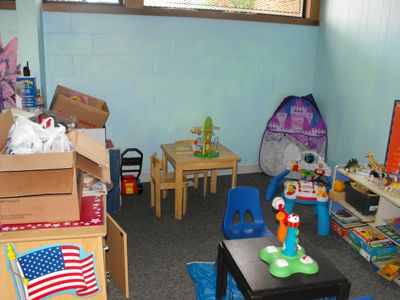 Because they offer child care, they are seeing women "from all over the city … even coming a long way," but particularly from south King County — Kent, Renton, Auburn, Tukwila — and the need in that area is partly why they chose to locate in White Center.
They are taking referrals both directly from potential clients and also from various agencies. The level of treatment depends on how the client is assessed — if they are found to be in need of intensive treatment, that's three visits a week.
Jill talks about the "sense of community" they've been experiencing in their new endeavor – and while she's loathe to boast about it, we can tell that a large part of that comes from the fact that she and her colleagues have built it themselves from scratch. They worked together at other facilities before – two of them do clinical work, the third handles administration (including fund development and grant writing), and they have just hired a child-care director.
Their startup costs got a boost from a financial institutional that "works with nonprofit community enterprises," and they're just starting to generate an income. They're an official nonprofit organization (501 3c) and they also advocate for reforms in the treatment process — helping clients get help immediately, when they are ready to make a change, rather than having to go through long assessment processes just because of red tape, running the risk of missing the opportune moment: "If a client is ready to do treatmnet, we want to keep them from having to wait." They also advocate for putting a greater focus on "customer service," rather than just getting an "endless stream of clients."
If you visit during today's open house, you can make a donation, but it's by no means required. They're just hoping to meet more of the folks with whom they are sharing a community – you can even paint a block, as they continue to decorate their simple quarters. Again, New Traditions has just started its third month of operations, at 9045 16th SW, across from the Salvation Army, and here again is that map; even if you can't visit – if you happen to know anyone who deals with women who have chemical-dependency issues, let them know New Traditions has room for new clients, as they continue building a practice in hopes of changing the lives not only of the women they serve, but their children too.
Tags: chemical dependency, new traditions
You can follow any responses to this entry through the RSS 2.0 feed. Both comments and pings are currently closed.