North Highline Unincorporated Area Council: Evergreen Aquatic Center's pitch; illuminating the light problem; more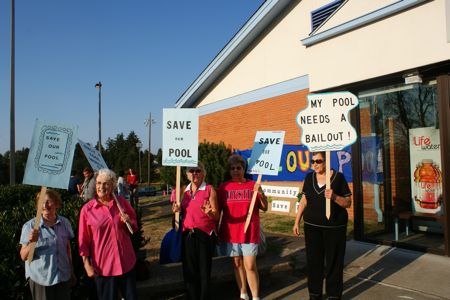 (2009 White Center Now/West Seattle Blog photo from rally to save Evergreen Pool)
By Tracy Record
White Center Now editor
Evergreen Community Aquatic Center, born three years ago after the county shut down three years ago, is behind on its gas bill and facing cutoff in a matter of weeks, the North Highline Unincorporated Area Council was told Thursday night by two ECAC representatives – who stressed they weren't trying to sound "alarmist," though council and audience members advised them to start making noise.
NHUAC took on several other topics during its two-hour meeting, but this was the most dramatic; as noted during discussion, the council had taken a leading role in marshaling support to save the pool last time around.
ECAC board member Brian Hastings and center manager Joel Schweiger did not immediately hint at the pool's dire straits, first recapping the aquatic center's history since the county closed it in 2009, more than half a year before the community effort's success led to its reopening almost exactly three years ago. The pool is popular and busy, they said, offering programs that serve Highline Public Schools, the Whitewater Aquatics swim club that led the fight to save it, public swims, and"pretty much all-day activities." More than 3,300 children have taken lessons there in the three years since the reopening, they said.
Hastings said they're falling behind on utility bills, and they want to keep serving the public – with more than 3,300 kids getting lessons in the past three years – but they've lost $15,000 a year since reopening, which he says is "remarkable" given that the pool was costing the county $172,000 a year before it closed. "And we're getting squeezed substantially by (Puget Sound Energy), which will only carry a delinquent bill for so long."
It would be even worse if they hadn't replaced the old boiler with a system that has cut the bill by about a third, Schweiger noted, and they're working to use its surplus heat to heat the locker rooms, and to eventually put a solar-power system "on the sunny side of the building," which would mean they wouldn't need to run the boilers at all. A glitch in that: The roof needs some work, tracing to a county upgrade that never happened, and a school district project that's not likely to happen.
They say they've worked too hard to let this die – "we're close, we're really close," said Hastings – but not close enough without help. And this is a pivotal time because their three-year lease is expiring, and they have to decide whether to renew.
Answering questions from NHUAC members and the audience, one was: Could increased attendance help? Only to a degree, said Schweiger. There are many hours of the day when the pool is jampacked. During the middle-of-day hours outside of summer, they are saving money by not staffing the pool during what would be a low-attendance time. "So you're looking for a sustainable funding mechanism?" asked attendee Elizabeth Gordon. "Yes," they replied. "I'm not looking for handouts," clarified Hastings, just more of a contribution from the community, because they are doing so much – as attendee Rachael Levine noted, teaching kids to swim means lives saved, among other attributes. Levine recalled the NHUAC campaign to save the pool, and suggested pressure on King County leadership to help. "You have done a great job maintaining that facility and keeping it open," she told the guests, also mentioning specific programs such as the women-only swims. "It's worth putting all kinds of pressure to keep it open," and get the repairs done, she declared.
It's not just a White Center-used facility – private teams from miles around come to use it, including from Seattle and Tukwila. And community involvement also means "getting members from the community who would like to sit on the board," said Schweiger, noting that Whitewater Aquatics parents have made up most of the board so far.
So what do they need? asked attendee Gill Loring, trying to get to the heart of the problem. About $25,000 a year, said the guests. "We've proven over 36 months that this can work," but now they are learning how to reach out to get what they need to keep it working. They also need somebody to do public relations and outreach.
But most urgently, they revealed when we asked from the audience – they need $17,000 by mid-May or Puget Sound Energy will cut off service. You should be able to donate soon through the Evergreen CAC website.
CRIME? QUIET! Storefront Deputy BJ Myers reported that violent crimes are down from the preceding month and about the same as a year earlier, and property crimes are down, which brings them to previous levels. Mail theft isn't much of a problem as it had been, but Myers still says locking mailboxes can be helpful. Campers are turning up "in the space between Greenbridge and downtown," he said, and Greenbridge's storefront deputy is working on that – with clearing out planned soon, since that "did seem to work for several months" previously. He mentioned the KCSO Storefront's participation in the Rat City Art City art walk last month, and said they'll do it again this month.
LIGHTS FOR DOWNTOWN WHITE CENTER: Herban Legends owner Chris Cody is organizing a Local Improvement District to "brighten up the downtown core of White Center" with added lights. He's also asking that supporters call their legislators about the DSHS building, to get exterior lights added and/or "get businesses into the empty spaces that are right now (a place for people) to hang out and get loaded." He also is hoping to walk through Roxbury to 102th and 17th to 14th with a King County Sheriff's Deputy. And pressure on the building's owner might be welcome too, he noted. It's been quiet in White Center lately in general, he noted.
Later in the meeting, NHUAC members decided to write a letter to the building ownership to urge lighting.
EX-EL CHALAN CLEANUP: This was mentioned – per our previous story – because of the recent paintover and weed-pulling; here's our photo from March 26th: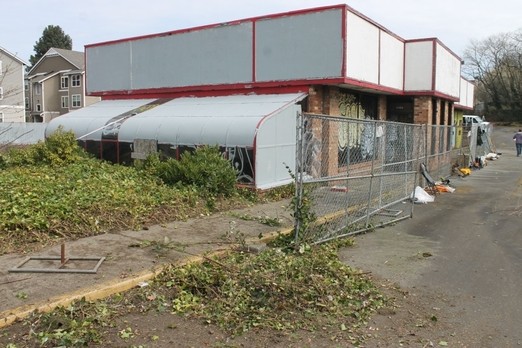 Though it was noted wryly that the property still isn't attractive, it was agreed the cleanup represented a massive improvement.
METRO CUTS: President Barbara Dobkin brought up the potential cuts mentioned by Metro GM Kevin Desmond earlier this week (here's coverage from our partner site WSB) and said that NHUAC will have a guest from Metro at its June meeting.
NHUAC ON NICKELSVILLE: Dobkin wondered if any of the people hanging around downtown White Center during the day were coming up from the encampment; Deputy Myers said he "didn't know that (he has) seen that." In addition to our partner site WSB's coverage, a new story from The Seattle Times (WSB partner) was cited. Deputy Myers said he visited Nickelsville recently and didn't recognize anyone – indicating it isn't home to any of the loitering regulars he has seen. Before meeting's end, NHUAC decided to write a letter in support of Highland Park Action Committee's efforts to get the City of Seattle to agree to sell the site to Food Lifeline, among other efforts.
WHITE CENTER SPRING CLEAN: Marquise Roberson-Bester from White Center Community Development Association explained the new plan for Spring Clean – not just one big day, but one day a month, as previously reported here. The first one is coming up fast – April 13th.
COMMUNITY SERVICE AREA MEETING: King County's new outreach system via "Community Service Areas" is launching a series of open houses. Since North Highline and West Hill are one CSA, the one for the area is happening April 17th in Skyway, with this area's County Councilmember Joe McDermott in attendance. President Dobkin urged her fellow councilmembers to attend, and anyone else interested.
NORTH HIGHLINE FIRE DISTRICT COMMISSIONERS: Next meeting is 7 pm April 15th, said NHUAC member Pat Price.
PUBLIC SAFETY FORUM: NHUAC's next one is May 2nd, with guests including Sheriff John Urquhart and Fire Chief Mike Marrs.
You can follow any responses to this entry through the RSS 2.0 feed. Both comments and pings are currently closed.