White Center-based WestSide Baby desperately needs help
From Nancy Woodland at WestSide Baby:
The weather has impacted our operations this week to a near standstill.
This is especially concerning timing with orders waiting for children
expecting warm clothes and toys for Christmas. We need extra hands to help
us sort the many donations we've received (yeah!) and to fill orders for
pick up by our agency partners on Monday. We've been closed for most of
this week but will be open on Saturday from 10am to 3pm for volunteers,
donations and pick-ups. Although our parking lot can be treacherous we're
inviting people to make their way to White Center to help out if they are
comfortable driving. Because of the volume, we'd love to have adult or
experienced volunteers only so that we can make the most of the time we'll
have tomorrow before the snow hits again. Even an hour or two makes a huge
difference.

Because of this week's unpredictability, please call our phone in the
morning or check our website if there is concerning weather between this
afternoon and tomorrow. Of course, today our voicemail outgoing message
isn't working properly so we hope that will be a good tool for communication
tomorrow.

We also plan to be open Monday 9-3 (weather permitting) and possibly on
Tuesday too. Thanks so much to everyone who supports WestSide Baby!
P.S. Not related to WestSide Baby but this photo is just in, 16th SW looking south from SW Henderson: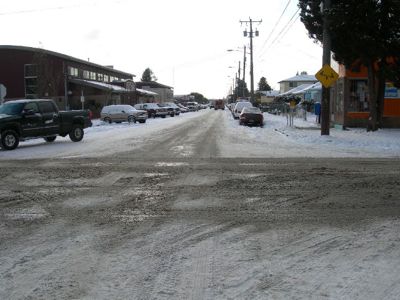 Tags: WestSide Baby
You can follow any responses to this entry through the RSS 2.0 feed. Both comments and pings are currently closed.