BIZNOTE: New ownership for Dubsea Coffee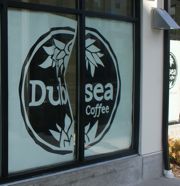 13 years after its much-awaited opening in Greenbridge, Dubsea Coffee has new ownership. Founder Sibelle Nguyen made the announcement on social media, saying she has "passed the reins of Dubsea to Carrie and Erin Wilkins." The couple, with a wide range of career and personal experiences, say in the announcement that they "had discussed running a coffee shop for some years." They recognized Dubsea's status as a community hub and promise to continue to grow it in that role. In her parting words, Sibelle expresses confidence that will happen, and adds, "Dubsea, both as a space and an intention, has shown me that it is more than possible for people of all walks of life to be together in kindness, sweet joy, creativity, and connection … in other words, a truly loving community." She also offers words of gratitude to staff, artists, and customers.
You can follow any responses to this entry through the RSS 2.0 feed. Both comments and pings are currently closed.