WHITE CENTER PRIDE 2022: More info about this year's celebration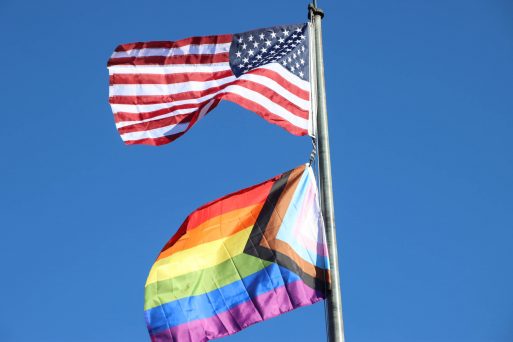 (WCN photo, 2021)
The street festival noted here earlier this week isn't all that will comprise this year's White Center Pride celebration. Here's the full announcement received today from organizers:
Coming in June, White Center Pride organization proudly announces a series of events in the White Center neighborhood that celebrates the lesbian, gay, bisexual, transgender, queer, intersex, asexual, and all sexual and gender minority (LGBTQIA+) people. This first in-person Pride following the arson fires and vandalisms from 2021 intends to bring people together to heal in solidarity over the triumphs and sacrifices made by the LGBTQIA+ and ally community.

Beginning on Wednesday, June 1st, at 6:30 pm, White Center will kickoff this year's Pride events with an opening celebration at Triangle Park. Special guest speakers, performances, and music will lead up to the raising of the Progressive Flag above the heart of White Center. Immediately following the Flag Raising Ceremony, the Southgate Roller Rink will host Pride Skate at 8:30 pm, where skaters can glide and dance to the theme "GLOW UP: Light up for Pride" with DJ Redline. This popular event is an opportunity for members of the queer community to express their diverse and unique selves in an inclusive and groovy space.

On the following day, Thursday, June 2nd, in collaboration with the White Center Pride organization, Future Primitive Brewery will release their limited edition "Queer Beer" for the second year, with part of the proceeds supporting the White Center Pride Organization. Jason Loughridge, President of the White Center Pride organization, invites attendees to "Come raise a glass with us, as we celebrate diversity, equity, and inclusion in the White Center neighborhood. Additionally, if you are interested in learning about the beer making process, join us at 5:30 pm for a brewery tour before the official Queer Beer release later in the evening."

It all leads up to the main event on Saturday, June 11th starting at noon: a day of fun and celebration at the White Center Pride Street Festival in Downtown White Center. Closing down the main "drag" on SW 16th Ave and south of SW Roxbury St for pedestrian traffic only, you can stroll the streets safely and enjoy queer vendors, drag performances, live music, beer gardens, and more!

Nathan Adams, owner of the Lumberyard, sums up the spirit of this year's White Center Pride: "Pride in knowing one's self should be celebrated every day. The journey is a long one and only each individual can know when it has started or is complete. Our strength comes from ourcommunity and our family, and together we can all be proud of who we are, where we come from, and where we call home!! This community is more like family to myself and everyone at the Lumberyard, and we cannot wait to celebrate and open our doors for our family."

For a list of White Center Pride events, see the organization's website at whitecenterpride.org/2022-schedule.

"On behalf of the White Center Pride organization and the White Center neighborhood, we invite you to our pride events. Celebrate the spirit of personal discovery and authenticity together!", said Matt Maring, Fundraiser Chair of the White Center Pride organization.
You can follow any responses to this entry through the RSS 2.0 feed. Both comments and pings are currently closed.