WHITE CENTER FOOD: Brass Knuckle Bistro closing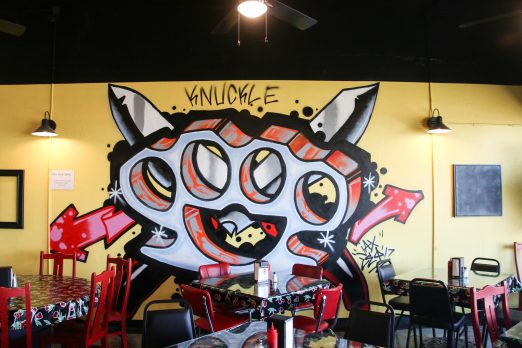 After a year in downtown White Center, Brass Knuckle Bistro (9602 16th SW) is closing. Proprietor Case Justham announced it tonight:
In short, we're closing at the end of the month, with our last day being Saturday April 27th. I apologize for the shocking speed, the deal we ended up making (more on that shortly) required both a quick close and a few contingencies that needed to be satisfied, which left us with a very short window between announcing the closure and turning over the keys. We'll be open our normal hours until the 27th, and updating our menu as we sell out of things (I have enough inventory to keep most of the vegan menu till the end, and we'll continue to prep fried and smoked chicken, while allowing things like ham and pastrami to sell out).

Closing was not an easy decision, business had been good and getting better, and we've had a great time in White Center making delicious food, meeting friendly people, and being part of a fabulous community, but between the fact that I like cooking a whole lot more than I like managing, and some very sudden change in my personal circumstances (I'm going to have to move, twice, ugh), it feels like the best choice.

Now, the sweet:

We've got a great buyer taking over, an iconic local spot that will be a perfect fit for the neighborhood, that I'm sure everyone will be extremely excited about. I'll let them introduce themselves with their own announcement, but it's not a secret if you come in and ask!

Also in the sweet column, I'm far from done with the local food scene, and have retained the rights to Brass Knuckle Bistro and all the associated recipes and such, so your favorites aren't gone for good, though I can't currently say what form they may reappear in (I'm leaning towards pop-ups and small events where I can focus on the cooking and not the managing). I'll be retooling the website and Facebook page with updates on that, so please continue to check in and see what I'm up to.

I also realized that I have 50+ pages of recipes that I developed for the shop, many of them completely original, not including all the variations and employee meal creations that never quite made it to the menu, so I'm putting together a little cookbook that should be available on Amazon sometime in the next few months. Yes, it will include my vegan mushroom bacon recipe! Again, I'll be updating the website and social media as that develops, so stay tuned.

Finally, I just wanted to say that for all the difficulties that this restaurant odyssey has entailed, it's also been a lot of fun and I'm glad I did it, and I appreciate every single person who's come in and enjoyed my food (with the exception of the guy who two starred me on Yelp on opening weekend, screw that guy), and thank you to the entire White Center community, who've been nothing but supportive. Onward and upward!
You can follow any responses to this entry through the RSS 2.0 feed. Both comments and pings are currently closed.