FOLLOWUP: Double-murder suspect charged
Merle Buchanan is now charged in the January 6 double murder in White Center. We reported Saturday night on the arrest of the 26-year-old suspect, more than a month after the King County Sheriff's Office announced he was being sought in the deadly double shooting.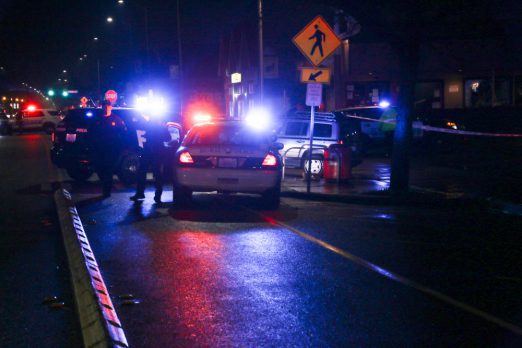 (WCN photo, January 6th)
Today, the King County Prosecuting Attorney's Office charged Buchanan with two counts of second-degree murder and one count of second-degree unlawful firearm possession. Charging documents say the victims, Paul Tapia and Jose Garcia, were co-workers, and that they arrived together at the Taradise Café just after midnight. Buchanan, a White Center resident, is described as a semi-regular who had been there about an hour by then. The court documents say surveillance video showed him talking with Tapia outside the bar, by his car, with Garcia nearby, and then showed the shooting around 1 am. The charging documents do not mention a motive. They do say Buchanan was identified via a trail that started with an AutoZone receipt found at the scene. He is in jail in lieu of $1.1 million bail, including $100,000 related to a domestic-violence protection order violation charge involving an incident with a former girlfriend hours before the shootings.
You can follow any responses to this entry through the RSS 2.0 feed. Both comments and pings are currently closed.