WHITE CENTER McDONALD'S: Teardown to be followed by 'cutting-edge' rebuild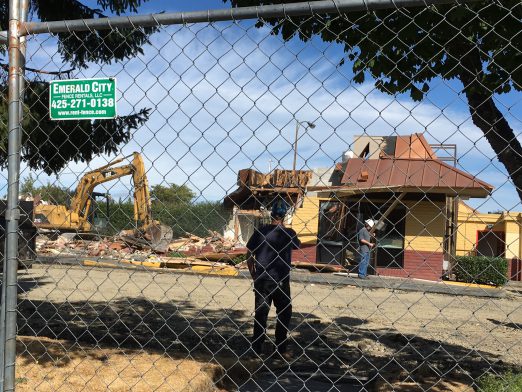 Thanks to the readers who tipped us that the White Center/North Burien McDonald's is being torn down. Their tips came with the question: What will replace the 38-year-old building? Answer: A new McDonald's. This was just confirmed by Derek Morrison, a regional media contact for the fast-food giant, who replied to our inquiry:
To clarify, this restaurant is NOT closing, it is undergoing a complete rebuild. This rebuild is going to reflect the McDonald's of the future, with a cutting edge and elevated experience in both the drive-through and inside the restaurant.
Also, after going by the site earlier today and seeing the banner identifying the contractor as Ziva Enterprises, we found "before" photos on that company's Facebook page along with a comment that they're hoping to be done by Christmas.
You can follow any responses to this entry through the RSS 2.0 feed. Both comments and pings are currently closed.