UPDATE: Helicopter search after Top Hat marijuana-shop holdup, shooting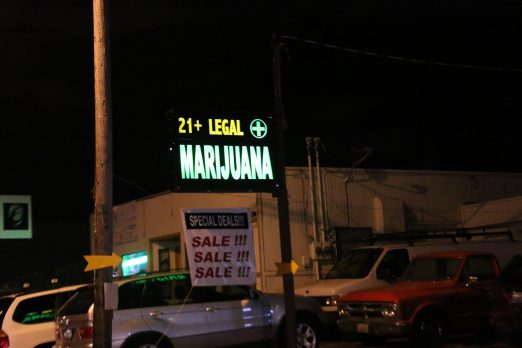 11:59 PM: Thanks for all the tips about the Guardian 1 helicopter search over Top Hat. It was helping search for suspects in a shooting and robbery at the Star 21 marijuana store in the 11000 block of 1st Avenue South, we confirmed with a deputy in the area. No arrest(s) reported so far. We will be following up with the King County Sheriff's Office in the morning.
ADDED WEDNESDAY MORNING: From Sgt. Cindi West of KCSO:
A K-9 search was done on the ground in addition to the helicopter search, but no one was found.
12:23 PM: Even more details in the newest update from KCSO:
The incident happened just before 10:00pm at the Star 21 marijuana shop in the 11000 block of 1 Ave S. A store employee saw lights and heard loud banging near the front door so he opened the door to see what it was. He saw a vehicle rapidly backing into the barriers placed in front of the store. A group of men, wearing masks, got out of the car and ran towards him at the front door. The employee tried to close the door but the men forced their way inside the store. One of the suspects shot the 25 year old employee in the shoulder as they entered the store. The suspects were described as black males wearing masks and hoodies.

Once inside the store the suspects rummaged through the store taking items before fleeing northbound in the vehicle. A short time later a deputy found the vehicle unoccupied near S110th St and Occidental Ave S. The vehicle had been reported stolen in a carjacking in SeaTac on Monday. The employee was taken to Harborview with serious injuries.

The carjacking occurred on Monday night around 11:00. The victim was sitting in his car in a parking lot in the 3500 block of S180th St. when he was approached by three males. One of the males produced a handgun, pointed it at the victim and demanded his car keys. The suspects then fled in the vehicle. The suspects in this case were described as two Hispanic males and one black male, all believed to be in their teens. (C17045198)

If you have information about these crimes please call the King County Sheriff's Office at 206-296-3311. You can remain anonymous and be eligible for a reward of up to $1,000 by calling Crime Stoppers at 800-222-TIPS (8477).
You can follow any responses to this entry through the RSS 2.0 feed. Both comments and pings are currently closed.