White Center community members come together to discuss a community response to graffiti
By Cliff Cawthon
Reporting for White Center Now
White Center community members gathered at the NorthMart Furniture store on Thursday to discuss the rise of unauthorized graffiti on walls and local storefronts in the business district.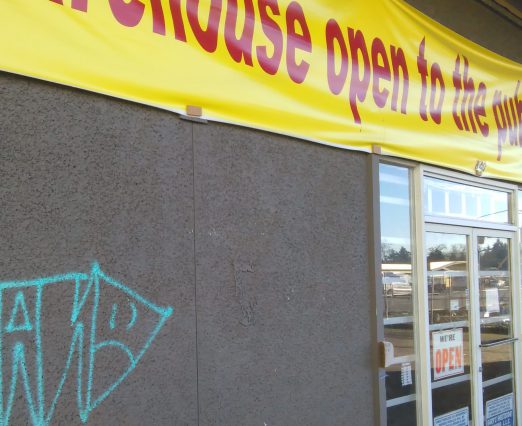 (Part of a tag on the NorthMart building, the meeting site)
The area is known for its murals reflecting the diversity of the area, but concerned residents have noticed a recent uptick in graffiti that they say destructively differs from those murals.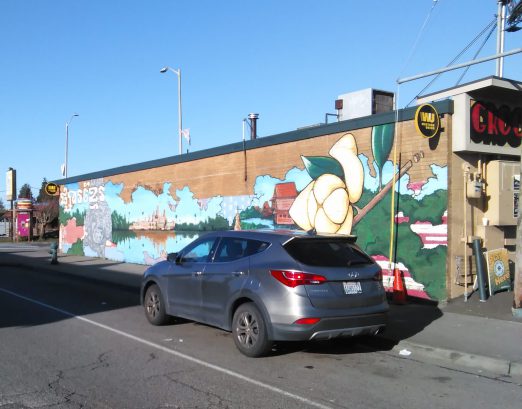 (One of White Center's distinctive murals)
"We are an artistic community, but these [tags] are territorial and can potentially cause violence," says Bobby Beeman, president of the White Center Chamber of Commerce. A little over a dozen people came to take part in the community meeting where the Chamber and their partners in the Community Development Association presented a three step proposal, and solicited input from community members on solutions to the problem.


Participants came from various parts of the White Center community – local businesses, representatives from King County including staff from the office of County Council Chair Joe McDermott, members of the North Highline Unincorporated Area Council, and people from the neighborhood.
The unauthorized graffiti tags worry some of the business owners, as they are concerned that defaced storefronts mean that the businesses will be unappealing to shoppers. Despite the concerns about the graffiti, community members wanted their response to be productive rather than punitive: "We do not want to send air of threat … however, this is going to stop one way or another."


In the Chamber's plans, disaffected or homeless youth between the ages of 15-25 are the social group that the chamber wants to focus on engaging. One participant, who identified himself as Brian, the owner of adult-video store Taboo, spoke to how he thought that youth are being used by individuals as a way to designate gang or criminal territory. The danger of this going unaddressed, from Beeman's perspective, affects everyone: "When you're on the street and there aren't safe spaces to put your head it becomes a violent situation"
Many in the room stressed that homelessness isn't necessarily associated with, or causing, this issue. That's important given the recent controversy over siting of a shelter in White Center. In regards to engaging homeless youth, and youth in general, Beeman and the Chamber, as well as their allies, proposed a three-step plan to take action and engage them as well as other youth and potential graffiti artists in the area. 

The three-point plan is based around repair, advocacy, and youth and community engagement. McLendon Hardware in White Center has agreed to give a discount – through the Chamber – to business owners who cannot afford paint, as well as to equip them with other tools.
Seth Oakes from the King County Community Work Program, part of the Department of Adult and Juvenile Detention, said his department is willing to "move forward and help in [graffiti and trash removal] where we can," going forward. This first phase of this plan, as it was identified in the meeting, can build upon the Community Work Program; which re-directs people who have been charged into community service projects in lieu of incarceration or detention.
The second part of the plan relates to the Chamber and the White Center Community Development Association's commitment to advocacy, by partnering with graffiti artists, advocates, and locals to determine and develop future spots for murals. The hope is that artspace can displace and disrupt graffiti tags and activity and get people active and involved with the community.

The third and last phase would focus on bringing youth into the process. NHUAC president Liz Giba was excited about the prospect of engagement, both as an alternative to criminal prosecution and as a preventive and educational tool: "I think it would be cool if the kids helped develop them." Giba stressed the value of openness: "Bring them into the neighborhood, I think that … everyone has something to offer." 


This plan still doesn't change the law. King County Sheriff's Office Storefront Deputy Bill Kennamer said that graffiti is vandalism, a misdemeanor, with potential penalties including a $1,000 fine and up to 90 days in jail. Lan Nguyen from Councilmember McDermott's office shared that McDermott and his colleagues in county government are also working to explore alternatives to incarceration and criminal penalization for youth: "[We] want to work on figuring out what we have … who's eligible and how can they get connected with that. I think the idea of a community coming together to say, 'We don't want youth to go through this harsh and punitive system, we want to be there to support him or her and support the family, [is] wonderful and beautiful."


If you want to learn more or get involved with the push to remove graffiti from the area, email WhiteCenterCC@gmail.com.
You can follow any responses to this entry through the RSS 2.0 feed. Both comments and pings are currently closed.