White Center's Big Al Brewing closing after 8 years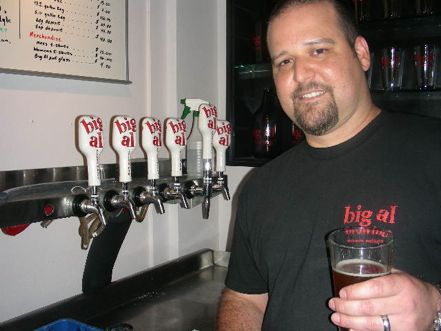 (WCN photo: Big Al on opening day in 2008)
Back in August, the New York Times spotlighted five White Center establishments.
Among them: Big Al Brewing, which had opened at 9832 14th SW on an August day, eight years earlier – one of the first stories covered here on WCN.
Today, in the mid-January chill, "Big Al" himself, Alejandro Brown, announced he's closing. From his announcement:
Every time I sit down to write this I have to stop because it's too damn hard. But some things have to be said. Saturday, January 14th will be the last day of Big Al Brewing as we know it. We are closing our doors. Phew, hard part over. There are many contributing factors that led to this decision but at the end of the day it doesn't matter. I'd rather focus on the positive. What an amazing 8 years it has been!! I lived my dream and experienced things I could have never thought of in my wildest dreams!
Big Al Brewing's award-winning brews include the Chile IPA that won a silver medal in the Washington Beer Awards last year.
You can follow any responses to this entry through the RSS 2.0 feed. Both comments and pings are currently closed.