Annexation briefing on Seattle City Council agenda for Wednesday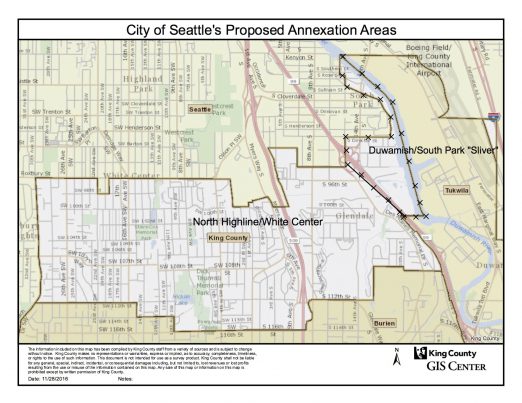 (Map from agenda for January 18th City Council committee meeting)
We watch Seattle City Council agendas for our partner site West Seattle Blog, and just found out that Wednesday afternoon's meeting of the council's Education, Equity, and Governance Committee will include an annexation briefing, both the North Highline and South Park/Duwamish proposals.
Documents for the meeting at 2 pm Wednesday (January 18th) in City Council chambers at City Hall are online. This one says that the city is currently looking at 2018 for the potential North Highline vote, and includes other details:
(If you can't read it via Scribd, see the PDF here.) City Councilmember Lisa Herbold, who represents West Seattle and South Park, had told us the same thing recently regarding timeline, saying that the South Park annexation was moving more slowly than expected so she didn't expect the possible NH vote before 2018.
Keep in mind that the City Council still has steps to take before it even calls for a vote. Wednesday's briefing is NOT an action item, so there is no vote of any kind scheduled, but the committee meeting does have a public-comment period.
You can follow any responses to this entry through the RSS 2.0 feed. Both comments and pings are currently closed.