Update: Deputies arrest car-theft suspect after air, ground search in Shorewood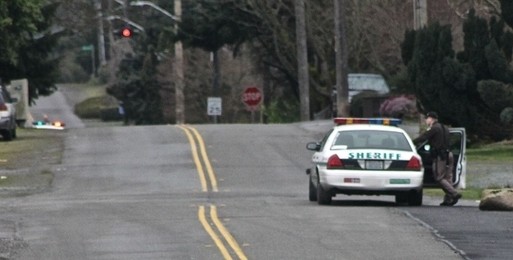 (One of more than half a dozen law-enforcement cars scattered around the search area)
9:42 AM: The King County Sheriff's Office helicopter Guardian One is over the Shorewood/White Center area again, according to reader reports, confirmed by KCSO spokesperson Sgt. Cindi West, who confirms the helicopter is assisting with a ground search. No details just yet – so far it does not seem to be related to the recent search in that area. We're headed that way and will update when there's more information available.
10 AM: The search and ground "containment" are over a wide area, somewhat further south of the aforementioned recent search. A K-9 officer is helping too. On our Facebook page, one resident says Evergreen High School and Cascade Middle School are taking "modified lockdown" precautions – we have not yet verified that with Highline Public Schools, but it would be typical for any kind of search situation within a mile or two. (Added: Commenters say Shorewood Elementary is in lockdown too.)
10:22 AM: Here's what Sgt. West just told us: Deputies pulled over a car that turned out to be stolen. One man who had a car-theft warrant out for his arrest took off running. He is a light-complexion Hispanic male in his 30s, puffy gray sweatshirt, blue jeans. They advise staying in your house because they have a K-9 search going on. We also have received the message that Highline Schools is sending to parents. From district spokesperson Catherine Carbone Rogers:
This morning at about 9:35 a.m. we were advised to go into a modified lockdown due to police activity in the area. This is a standard precautionary measure.

The safety of our students is our number one priority. During a modified lockdown, students can move about inside the school but not outside. For the safety of both students and parents, we do not alert parents while a lockdown is in progress or allow students to contact their parents by cell phone. This is an emergency management best practice. Police do not want parents to come to school to retrieve their children, because that could put the parent in danger and/or could compromise the police investigation.

Please know that your child's safety is the central purpose of all our emergency procedures.
And Sgt. West reiterates that if you see or hear anything/anyone suspicious, call 911.
10:42 AM: Sgt. West says they arrested the suspect.
You can follow any responses to this entry through the RSS 2.0 feed. Both comments and pings are currently closed.