Crime, safety, sobriety, transit – and prevention: NHUAC's 2nd public-safety forum
By Tracy Record
White Center Now editor
Car thefts are on the rise in White Center and surrounding areas, "and I don't expect summer to really help that," is how King County Sheriff's Deputy BJ Myers opened the North Highline Unincorporated Area Council's second public-safety forum tonight.
His tips
*Don't leave your car running
*Don't leave valuables out in the open
*Don't leave your windows open
*Do have your vehicle license plate #/make/model written down or memorized
*Do park in areas that are well-lit, with high traffic – big parking lots like apartment complexes are where a lot of thefts happen
If somebody calls to report a possible stolen/abandoned car, he explained, they do fingerprinting and evidence processing, which is key to identifying "who's stealing these cars, so that we can put a stop to it," since many thieves are repeaters, Deputy Myers explained.
Here's what a dumped stolen car looks like:
*Obvious damage that might not be from a collision
*Unusually parked – looks like somebody just stopped it and left
*Wheels that don't match
*Windows rolled down on nights when they shouldn't be
*Odd-looking seat positions
*Broken windows
*Ignition damage
"If you see that, call (911) and say there's a suspicious car that might be a stolen vehicle," and give them the plate/description, he advised. If they can't get hold of the car's owner to confirm whether it's stolen or not, they might still take possession of the car so as not to lose the chance to investigate.
OTHER CRIME ISSUES: Deputy Myers was asked about last night's robbery at the Subway on 16th SW (we had tried to follow up earlier today with the person temporarily handling media relations for KCSO), but had no additional information.
LIQUOR INITIATIVE UPDATE: The liquor initiative is going well, he said, about six weeks in: "The stores we really hoped would be on board are on board." No sales of single-serving alcohol for offsite consumption from 6 am to 1 pm. Deputy Meyers says "8 or 9 stores in the downtown area" have told distributors that they are participating and have put up signs, and have been seen turning people away during those hours. "They tend to be some of the smaller shops," he said – "I don't think any of our big chain retailers are going along with it," but, he added, stores of those sizes tend to keep problems down. He says that the WCCDA will offer recognition, along with KCSO, during Spring Clean next Saturday. Even Chevron has signed on, along with ZipMart, Rainbow, Shorewood Grocery, Smoke Town, Cigarette Depot on Delridge, a few small grocery stores, are among the participants he listed. But, he said, "We still see guys drinking at eight or nine o'clock in the morning" – the initiative is intended to be a "speed bump." One storeowner told him they're not losing business – "we just make it all back after 1 o'clock."
SPEAKING OF INTOXICATION: … what if marijuana is being smoked openly? Deputy Myers was asked. "Call 911," he said. "We don't get those calls," so far. Asked if he had been inside the Cannabis Farmers' Market, he said that he had been asked not to go inside "because I'm not a patient." Someone suggested, "So get a card – you can do it right next door."
CRASH UPDATE: Asked about the man in a wheelchair who was hit by a vehicle, Deputy Myers said that he had heard the victim was out of the hospital and recovering at a private residence, at least as of a week and a half ago. They still have no idea who did it.
METRO TRANSIT POLICE CHIEF LISA MULLIGAN: Rather than launching into a speech, Chief Mulligan – who is also a Major in the King County Sheriff's Office – started by engaging attendees in conversation, asking which routes they ride (answers included 120, 125, 113, 3, 4, 550, 216, 54, 55, 516), and whether they'd ever had a bad experience on a bus. Fare evasion and rudeness were mentioned. She leads 69 Metro Transit Police Officers, all of whom also are deputies, assigned specifically to Metro, stationed from an HQ in SODO. Almost half are patrol officers, but there also are anti-terrorism officers, captains, sergeants, bicycle officers … "We are so proud of what we do with what we have," she said, while noting clearly that they are spread pretty thin. However, "we've gotten pretty good at figuring out where our bus drivers and passengers say the problems are." They track reports written by drivers about trouble during shifts, "and that's how we police." Every month they have a top 10 list "based on the number of security-incident reports," and 120 is consistently on the trouble list, "almost every month."
Chief Mulligan was asked what they expect to happen when the Ride-Free Zone in downtown Seattle goes away on September 29 along with a variety of other changes. They actually believe this might reduce the number of assaults in a particular category – being spit on. The expected change is because the interaction between driver and passenger will be when they get on, not when they leave, once the RFZ is abolished.
She talked about the importance of the perception of safety, and how an officer's presence can enhance that, in an area where there have been problems. She added that transit police are in closer touch with storefront deputies like Deputy Myers now, more than ever before. "It's finally dawned on us that … 69 of us in the whole county, we need to leverage that partnership with other agencies better than we ever have … It's one of the things we're doing now that feels like a really positive direction for us." Deputy Myers "has been just fabulous," she enthused.
One note about RapidRide – there will be fare enforcement officers on board, Chief Mulligan revealed, since it's a "proof of payment" system – you can tap your ORCA card on the sidewalk reader, and you don't have to do it again when you board, which also means the operator may not know whether you paid or not. So "Metro has security officers that don't carry guns but have a vest they wear to keep them safe, and they go through the bus and check everybody" for proof of payment.
Biggest crime trend in Metro right now: "Transit has become a hot spot for people to steal electronic devices," she said, explaining that they have seen a "huge increase" in the number of people who are robbed of their smartphones. It's often a physical, violent crime, and she says law enforcement has talked to electronics companies to make a change that would make them less attractive to robbers. Don't be unaware of your surroundings, don't be walking through a dark area, don't be walking along engaged with your device and nothing else – "having someone run up and take it away is pretty common" – if that happens, she said, don't chase after them, it likely won't come out well. The other ruse is, "can I borrow your phone?" and then they never give it back. "Not the same kind of robbery, but the same concept," she said. "Keep your items close, keep them zipped, be aware of yourself, and if there is a problem around you, get up and move."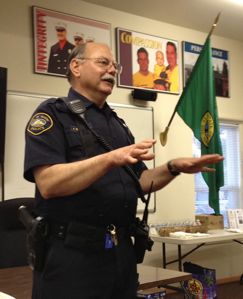 CRIME PREVENTION THROUGH ENVIRONMENTAL DESIGN: This has been a big topic in the area, with the West Seattle Blockwatch Captains Network getting another presentation last month, and it was the topic tonight at the NHUAC forum for visiting SeaTac Police Officer Doug Reynolds. He discussed the principles:
*Access control: It's supposed to be done through natural means – such as a hedge, a rockery, a planter strip, "something between the sidewalk/street and your front yard."
*Natural surveillance: "Kind of my favorite," he said – "see and be seen as you go about your daily business." For example, he said, commercial groups have done research showing that a shopper might not go in a store that she can't see the inside of from the parking lot – can't see adults inside the business. "The evildoer sees a big wall, and says, 'I can do anything I want, nobody can see me'." He said it shouldn't be so tough to convince the average homeowner "to open your curtains during the day!" You can be seen, you can see, "you are a natural caregiver, you are a steward to your community." He talked about one commercial facility whose parent company wouldn't even allow window coverings, which is not a a problem, he said, because "what are you doing that shouldn't be seen?"
*Ownership/territoriality: Among other things, this principle incorporates the "broken windows" theory. Let's say first a car is seen with vandalism-type damage and nothing is done about it. Then pretty soon "all the cars around there are damaged," and it just keeps spreading.
He also discussed location, on a tangent about skateparks and whether they are located where they would best belong, or just "where the Parks Department owns the land."
In Q/A he was asked about the window-covering issue. Leaving the windowns uncovered 24/7 is NOT a bad thing, he said, but if you can, switch it up – cover a window sometimes, open the coverings partly, leave a light on, leave a light off … If someone knocks on your door and you don't want to answer, don't just be silent – they might go around back or the side and break in. So at least "let them know you are home" – shout I'M BUSY, COME BACK LATER, or something else that lets them know you are home. "Say SOMETHING!"
Datapoints he shared in the final portion of his appearance: Half of all burglars are juveniles. … If you're going to have a burglary alarm, have an audible one that is VERY, VERY LOUD, because, as he put it, "unless they come with their own ear protection, they're not going to stick around." … Surveillance camera? "There is no evidence that it prevents crime. It may aid in apprehension." However, that doesn't apply if the camera is of poor quality and therefore its images are too. "I think there's a lot of places to spend your money before you buy cameras."
Block Watches, he declared as the meeting wrapped up, "are the best deterrent."
NHUAC has been holding these forums quarterly – watch their website for details on the next one, which is scheduled for August 2nd.
You can follow any responses to this entry through the RSS 2.0 feed. Both comments and pings are currently closed.