White Center restaurants: Another new one on 14th – Teo's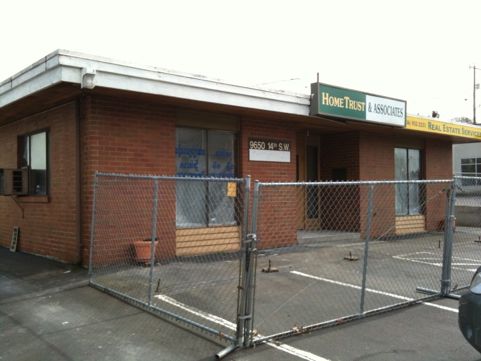 Story and photo by Deanie Schwarz
Reporting for White Center Now
Teo Restaurant and Café owner Phuong Nguyen took a break from extensive remodeling to chat with WCN at his soon-to-be opening White Center Vietnamese restaurant.
Phuong is a White Center resident and first-time restaurant owner, building out the former Home Trust Real Estate Services office at 9650 14th SW as a dining room/cafe. A private room rental will also be available in the space which might accommodate 40-60, according to the new owner. The exterior of the building will soon be revamped with a redesign of the boxy brick building's facade, to reflect an Asian sensibility.
"White Center is growing very quickly," Phuong said. "We want to bring this place [to the neighborhood] and [we want to] be as good as the Green Leaf" (a traditional Vietnamese restaurant in the International District). To that end, Phuong has begun searching for a chef who will help bring his family's dream of high-quality food and service to life for the White Center community.
A beer and wine license has been applied for, with no plans for a full liquor license. "We want people to stop by after work and enjoy a beer while they relax before a nice meal," Phuong explained.
Teo is the latest addition to White Center's ongoing arrivals of new businesses on 14th, accompanying Zippy's Giant Burgers' scheduled opening April 25 (just half a block north on 14th SW). Big Al Brewing, a popular beer brewery and tasting room, is less than a block south.
Phuong promises to keep WCN updated on the opening date, with a preview of the completed space and final menu to come.
You can follow any responses to this entry through the RSS 2.0 feed. Both comments and pings are currently closed.